Downtown Lakeland New Parking Signs & Enforcement
---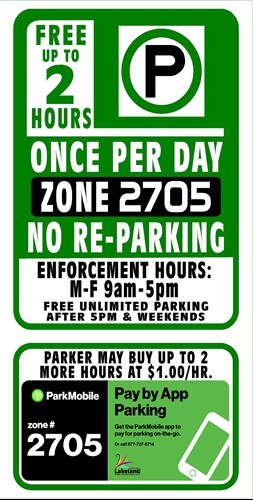 LAKELAND, FL (January 3, 2019) | The parking signage in downtown Lakeland is getting modified to be more user-friendly and to help accommodate the variety of visitors coming to the area to work, shop, eat and play. New signage will be installed over the weekend and will be effective Monday, January 7th at 9 a.m.
Angelo Rao, Manager of Traffic Operations and Parking Services said, "The City of Lakeland has been working with the Lakeland Downtown Development Authority to design signage that clarifies regulations while helping to maximize parking turnover for the downtown merchants." 
Enforcement
New parking enforcement hours start January 7th starting at 9 a.m. and ending at 5 p.m. Monday through Friday.  Parking is FREE after 5 p.m. on weekdays and all-day during weekends. Those parking in the core of downtown have a 2-hour maximum for FREE parking per day, with NO re-parking privileges. Visitors requiring additional time in the downtown core are encouraged to use the ParkMobile app.  In the image, this area is marked Zone "2705" on the app and is $1.00 / hour for a maximum of TWO (2) additional hours.  Zone "2705" parking is symbolized by the black dots on the downtown parking map.
ParkMobile is a convenient app that helps people easily find and pay for parking on their mobile devices.  There are over 10-million ParkMobile users that quickly pay for street and garage parking without having to use a meter or kiosk. Click here for more information.
Accessible/Purple Heart/Combat Wounded Veteran Parking
Drivers with a Purple Heart or Combat Wounded license plate may park in any publicly accessible parking space for free all day long; and persons with Accessible Parking placards or license plates may park in any Accessible Parking spot for free without time restrictions.  Alternatively, all on-street regular parking spaces are also available for free for double the noted time limit.  All garages have free Accessible Parking spots.
Walk a Little - Save a LOT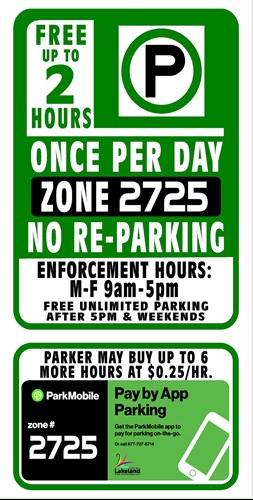 For those that require more than four-hours of downtown parking, on-street peripheral locations on Massachusetts Avenue, Main Street and Orange Street are now in place and customers can use the ParkMobile  app to park in these locations longer than four hours. The exact areas are depicted by green dots on this map. This peripheral parking will have a new ParkMobile zone number assigned: "2725" (see image). For this new zone, the first two hours of operation will be free of charge, followed by the ability to purchase up to six additional continuous hours (for a grand total of up to eight hours) at the rate of $0.25 per hour plus applicable ParkMobile fees. 
Contact
Kevin Cook
Director of Communications
863.834.6264
kevin.cook@lakelandgov.net
---
About Lakeland
The City of Lakeland was incorporated January 1885 and has grown to become one of the largest inland communities in Florida.  With a current population over 100,000 Lakeland continues to grow. It has been designated a Standard Metropolitan Statistical Area by the US Census Bureau for over 30 years.  With tourist attractions and gulf beaches only an hour away, Lakeland continues to capitalize on its ideal central Florida location along the I-4 corridor.  The City owns and operates Lakeland Electric, the third largest publicly owned utility in Florida and it was one of the first to offer power in the Sunshine State over 110 years ago.
For additional information about the City of Lakeland, please explore lakelandgov.net.
Citizens are also invited to follow the City on social media.