Rotary Playground in Hernando's Landing Ribbon Cutting
---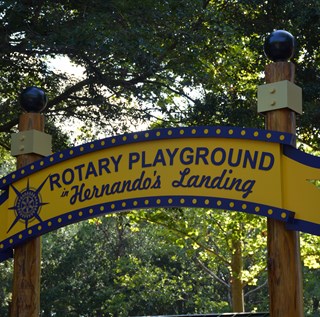 Rotary Playground in Hernando's Landing
LAKELAND, FL (July 24, 2017) - Rotary Playground in Hernando's Landing at Lake Parker Park will officially open with a ribbon cutting on Friday, July 28th at 10 AM. The public is invited to visit and play at this new addition located at Lake Parker Park (910 East Granada Street).
The playground was made possible through the fundraising efforts of the Rotary Clubs of Lakeland including Lakeland Christina Rotary, Lakeland North Rotary, The Lakeland Rotary, and The Rotary Club of Lakeland South. The local Rotary Clubs of raised more than $300,000 for the project.
Bob Donahay, Director of Parks & Recreation said, "This is an exciting addition to our park inventory.  The Rotary Playground in Hernando's Landing features two zip lines, a pirate ship and a designated play area created specifically for 2-5 year olds." 
The focal point of the play area is definitely the pirate ship with a ship's bow, wood-grain details and bold color scheme. Kids can take turns as the captain steering the ship's wheel toward lucrative bounty. Others can keep an eye out for rivals using the built-in periscope.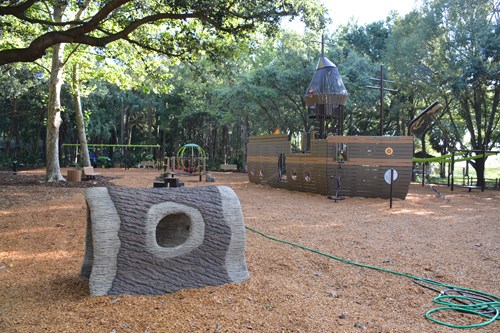 Pam Page, Deputy Director of Parks & Recreation said, "The playground was designed to promote imaginative play to help children think creatively.  On the surface it's a cool, fun place to play but imaginative play helps children develop social and problem-solving skills through cooperation and coordination."
The name of the playground recognizes Hernando Desoto's stop in what would become Lakeland on the shore of Lake Parker during his trip across Florida that started in Tampa Bay in 1539. Lake Parker Park has kiosks with more information on Hernando Desoto's journey.
For additional information about Rotary Playground in Hernando's Landing, call 863.834.2233.
---
Contact
Kevin Cook
Director of Communications
863.834.6264
---