Battalion Chief Jeff Wharton Retires After 35+ Years of Service
---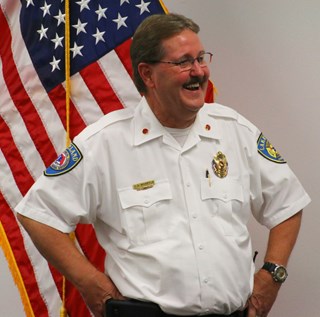 Battalion Chief Jeff Wharton retired June 17, 2017 after 35 years of service to the people of Lakeland! A public servant, through and through, B/C Wharton has worked in the Fire Service and Law Enforcement his entire life. In a ceremony held Wednesday, June 14, 2017 at Fire Station 1, Chief Wharton was joined by family, friends, colleagues, and City Management; all gathered to wish him a happy retirement.
Jeff is a leader with a servant heart and was a mentor to many, at not only the Lakeland Fire Department, but throughout Public Safety in Polk County
The entire department wished Battalion Chief Jeff Wharton the very best in retirement, which he most certainly deserves!
More about B/C Wharton:
"Battalion Chief Jeff Wharton began his career with the Lakeland Fire Department in September of 1981 as a firefighter. He leaves the department today as one of the more experienced and tenured members at the department, with over 35 years of service. He served as both a Driver Engineer and Lieutenant prior to his promotion to Battalion Chief in June of 2010.
Battalion Chief Wharton holds several certifications in law enforcement and was a law enforcement officer for over 20 years; of which he worked at the Lakeland Police Department. Jeff is also certified in incident management and homeland security. His other certificates include: Operations Section Chief, National Incident Management System Planning Chief, Public Information Officer, Emergency Medical Technician, Fire Instructor I, Fire Inspector, Fire Officer 1, Aircraft Rescue and Firefighting (ARFF) operations, and Cardiopulmonary Resuscitation Instructor.
He has been very involved throughout his career at the department, having served as an instructor in several different capacities. He also led the emergency command efforts at the Sun n' Fun Airshow and Expo for the past 20 years; a tremendous achievement given that the airshow is one of the largest in the nation. He also organized the effort to create and erect a commemorative firefighter sculpture and reflection area to honor the work and sacrifices of professionals in the Fire Service. He personally led the project for several years and saw it come to fruition in December of 2015.
Battalion Chief Wharton has worked closely with fellow public safety professionals over the past 35 years. He even served as an instructor at Polk State College for Emergency Communications. He has completed multiple fire science courses at area colleges and is a graduate of Florida State University's Certified Public Manager program.
Jeff is devoted to his family. He is joined today by his wife Kris and his children, Jeremy and Danielle. In retirement, he looks forward to having more time to devote to his grandchildren, which he dotes on, and having more time for travel.
This is a well-deserved and jubilated retirement. The entire Lakeland Fire Department wishes Battalion Chief Wharton a happy retirement and sincerely thanks him for 35 years of devoted service to the citizens of Lakeland."
See the video review of B/C Wharton's career @ https://youtu.be/9i0ovTnI5AY