Gas Leak in South Lakeland Neighborhood Leads to Evacuations
---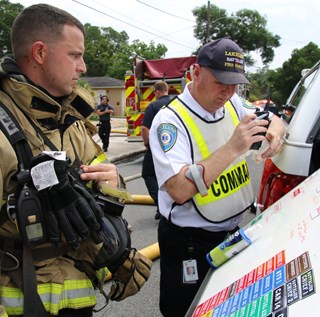 Dozens of residents in a Central Lakeland neighborhood were evacuated from their homes for about five hours Wednesday because of fumes from a broken gas line.
The streets reopened about 3:30 p.m. after the TECO Gas crew had plugged the leak. Residents were allowed to return at that time.
The incident started abut 10:30 a.m. Wednesday when the Fire Department was called to 316 E. Palm Drive by a resident who detected the strong smell of gas.
Firefighters discovered a gas line had been punctured apparently by City of Lakeland workers in an alley way.
As a precaution, residents of the area bounded by South Florida Avenue at East Beacon Road, East Palm Drive and Lake Hollingsworth Drive were evacuated to the nearby First Presbyterian Church.
The Lakeland Police Department also closed those roads, creating some traffic backups.
Residents in the Dixieland neighborhood were allowed to return home about 3:30 p.m. after a crew from Tampa Electric Co. Gas sealed the leaking 4-inch gas line.
But many residents hadn't gone home by late Wednesday afternoon, which kept fire officials from checking inside the locked houses for any lingering fumes with gas monitors.
Fire officials were checking homes into the early evening. Fortunately everyone was safe and there were no injuries