Structure Fire at 1216 Sycamore Street
---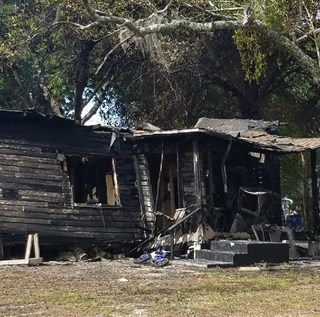 Structure Fire at 1216 Sycamore Street
Lakeland Fire Department (LFD) crews were called to 1216 Sycamore Street, Tuesday May 30, 2017 at approximately 9:30 PM in response to a structure fire. Upon arrival, the single story, wooden frame dwelling was fully engulfed in flames. Winds from an approaching thunderstorm forced flames in a westerly direction with several utility trailers and large oak trees also becoming involved in the fire. A residential dwelling on the western side 1216 Sycamore Street was evacuated by the Lakeland Fire Department upon arrival.
LFD Fire Investigators determined that the cause of the fire was accidental, started by children playing with open flames near the home. Dry conditions further exasperated conditions. All operations were conducted via the exterior of the structure by firefighters due to extent of fire. The home completely collapsed due to sustained fire damage.
There were no injuries. The American Red Cross of Central Florida provided humanitarian support to the occupants of the home. Occupants, two adults and four children, were displaced.