Last Day to Register to Vote in the November 7th Municipal Elections
---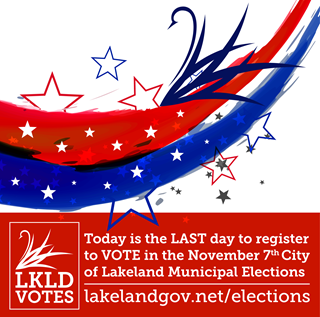 Lakeland, FL (October 10, 2017) | If you are a resident of the City of Lakeland and would like to vote in the November 7th Municipal Elections, TODAY is the last day to register, and you must register by 5 PM.

From the Polk County Supervisor of Elections: Municipal Election Day is November 7th, and the Polk County Election Team will be on the road to offer city residents of Auburndale, Lakeland and Winter Haven a chance to register to vote by the October 10th registration deadline. Residents who are not currently registered to vote in Polk County are encouraged to stop by and complete a voter registration application. "We want to make sure that every person has the opportunity to make their voice heard," said Supervisor of Elections Lori Edwards.
On-Site Registration
The Supervisor of Elections Office will provide on-site registration in the following places in Lakeland today (full list including Winter Haven & Auburndale locations available at polkelections.com):
Taco Bell

 

| 3605 S Florida Ave | 2:15 - 2:45 PM


Polk County Government Center | 930 E Parker St | 3:15 - 5 PM
More Info
Once a voter has registered to vote in Florida, there is no need to register again. However, registered voters may stop by the mobile registration sites to update their name, address, party, or signature. 
If you already have a valid Florida Driver's License or Florida ID Card issued by the Florida Department of Highway Safety and Motor Vehicles, you can register online at registertovoteflorida.gov.
If you need further assistance or would like to register in person, please visit polkelections.com, call 863.534.5888 or email info@polkelections.com for more information.
You can also register to vote or update your information at any Lakeland Public Library!
Learn more about the candidates and ballot issues at lakelandgov.net/elections.
---