Hurricane Irma Debris Removal Update
---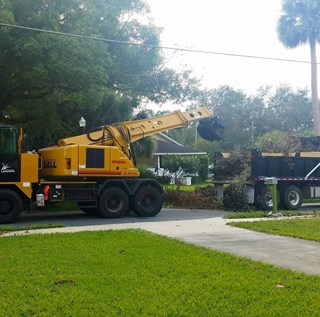 Over 325,000 Cubic Yards of Debris on the Ground
LAKELAND, FL (September 27, 2017) -  There is a coordinated effort underway to remove storm related debris left behind by Hurricane Irma. Crews have removed a total of 22,746 cubic yards of debris but there is a long way to go. There is an estimated 325,000 cubic yards of debris on the ground within the Lakeland city limits as a result of Hurricane Irma. To put this in perspective, the City of Lakeland's Division of Solid Waste collects a total of 107,000 cubic yards of debris each year.  The amount of debris left from Hurricane Irma would take three (3) years to collect under normal operations. There are 35 FEMA contract crews that are working seven days per week from 7 AM - 7 PM. The FEMA contractors are assigned to a particular zone and each quadrant of the City is covered. There are 15- 20 additional FEMA contractors that are expected be moving debris by early next week.
---
Collection Statistics
Collection statistics as of the end of day September 26th (nine days after the start of debris removal):
Total Number of FEMA Trucks/Trailers in the Field:  36
Total Loads Collected:  869
Average Size of Load:  35 Cubic Yards
Total Cubic Yards of Debris Removed:  22,746
Total Number of Hanging Limbs Removed:  2,778 
---
About Lakeland Debris Removal
Greg James, Assistant Director of Public Works who is overseeing the City's debris removal said, "There is about 60% more storm related debris from Hurricane Irma than what we had in 2004 with all three hurricanes. The tree damage is much more widespread." He added, "You can't hardly drive down any street in the City limits and not see some type of tree damage."
A first pass of all zones is expected to be fully completed by October 25th. A second and third collection will give residents additional time to place debris in their nearest right-of-way for removal. Residents are asked to be patient as the crews make their way throughout the City to clear the debris.  For those wanting to remove their own debris, the Polk County landfill has waived all tipping fees thru the end of October. 
As a reminder, residents are asked to not place debris in trash bags. Debris should be sorted by item type and placed in separate piles at the City right-of-way; not in the street. If residents live on private roads or in private communities and are unable to bring the debris to the closest public right-of-way, they are asked to contact the City's IRMA hotline at 863.834.IRMA (4762).
---
These are the specific items that can be moved to the curbside for collection:
Construction & Demolition Debris
Building material including roof shingles and siding
Drywall
Lumber
Carpet
Furniture
Plumbing
Vegetation Debris
Fallen tree branches and logs
---
Residents are asked to take the following steps to make the debris removal process easier:
Sort debris by type and place in separate piles
Do not place debris in bags
Do not stack debris against trees, poles, mailboxes, fire hydrants and storm drains
Do not place debris on sidewalks or farther back than 10-feet beyond the curb
---