Impacts to Lakeland: Hurricane Irma | 9/12 - 11 AM Update
---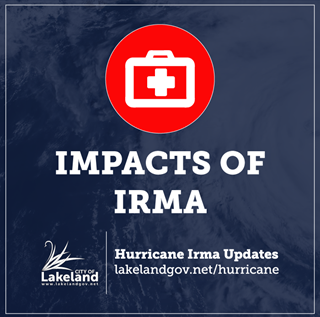 LAKELAND, FL (September 12, 2017) – The Lakeland Emergency Operations Center has been fully manned since Sunday at 12 p.m.  At the height of the storm, Lakeland experienced sustained winds in excess of 85 m.p.h. The impact due to Hurricane Irma is extensive with major tree canopy damage and over 65% of Lakeland Electric customers are without power. There were isolated reports of flooding, especially in low-lying areas that are prone to drainage issues.  The storm brought heavy winds and rain to the area that has already experienced higher than normal rain levels. 
Lakeland Electric
At 9 a.m., Lakeland Electric reporting that out of 78,000 originally without power, that number has been reduced to 45, 810. Sixty-two major distribution circuits were out due to Hurricane Irma.  Twenty-six have been put back into service and it is estimated that all 62 distribution circuits will be restored by the end of the day. Crews continue to work 16 hour shifts to restore power. There are line and tree crews that start assistance today from Oklahoma, North Carolina and Louisiana.
North Carolina has 56-line crew personnel, there are 30-line crew personnel from Oklahoma and Louisiana is sending 50-line crew and 50 tree trimmers. Priority is restoring power to the major distribution lines.
Tree Damage/Roadways
There is serious tree damage throughout the City. There are assessment teams with boots on the ground now gathering information on total number of trees down. There are still over 100 trees that are hindering right-of-way and blocking roadways. Parks & Recreation, Public Works, Community Development, Construction & Maintenance and Lakeland Electric has staff assessing and clearing the roadways from tree debris. The Florida Highway Patrol sent 40 troopers to assist yesterday in cutting trees and restoring roadways. 
Traffic
Over 80% of the traffic signals in the City of Lakeland are without power.  Those that are working are most likely on generator power.  Motorist need to approach intersections with caution and are advised to consider an intersection that has a traffic signal that is out, be treated as a four-way stop.
Damage Assessment 
Damage assessment teams have identified 1,100 homes, sheds and structures that have identifiable damage from Hurricane Irma.  Assessment teams are continuing their duties today, travelling to every neighborhood in the City to identify storm related damage.
Solid Waste
City of Lakeland solid waste is clearing storm related debris today and will continue to do so through the week.  Residential solid waste pick-up is scheduled to resume starting Wednesday.  There will be no recycling pick-up this week.  All trucks are being used to collect garbage and debris.
 Curfew
There is a County-wide curfew that starts today.  The curfew is from 12 a.m. – 5 a.m. until further notice.  Lakeland Police Department did arrest five juveniles last night that were targeting unmanned cars and closed businesses. 
---