Impacts to Lakeland: Hurricane Irma | 9/18 - 9 AM Restoration Update
---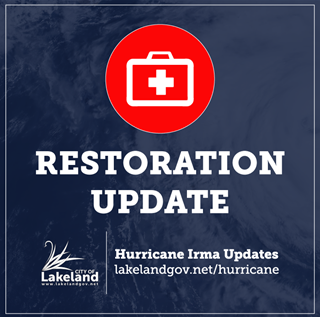 Lakeland, FL (September 18, 2017) Quick Update:
Lakeland Electric
As of this morning there are 4,205 customers without power. At the height of the storm, there were 80,000 customers without power.
Lakeland Electric added 17 additional linemen this morning (9/18) who were relieved from Bartow. There are now 420 linemen working diligently to get restore electricity to those customers who still are without power.
If you are on an energized street and you don't have power, please call 863.834.9535 so we can get you on a list to have a trouble truck visit your address.
Solid Waste Collection
Residential garbage collection is back on the normal schedule and the Federal Emergency Management Agency (FEMA) collectors and sweeping neighborhoods starting today picking up hurricane debris.
Please remember to have a separate pile for tree debris and a separate pile for construction/structural debris. Visit lakelandgov.net/solidwaste for more info.
---