Camp Blast Summer Recreation Program: In-City Registration April 7th, Open Registration April 14th
---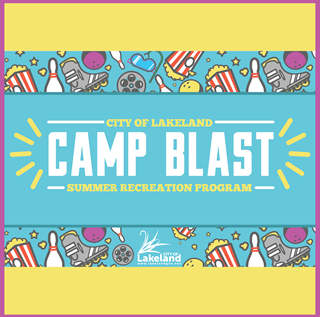 LAKELAND, FL (April 6, 2018) - Camp BLAST is the City of Lakeland's highly successful summer recreation program that is filled with learning experiences, fun activities, games and visits to thought provoking destinations.  The program is designed for young students who have completed kindergarten and not yet entered the 6th grade.  
---
Dates & Times
Camp Blast takes place Monday through Friday, 7:30 AM - 5:30 PM. The fun will start Monday, June 4th and go through Friday, July 27th.   There will be NO CAMP on Wednesday, July 4th.  
---
Registration
Registration for in-City residents begins Saturday, April 7th at 8 AM.  Registration for all residents (inside the City and outside the City limits) will begin Saturday, April 14th at 8 AM.  
Campers may register at both City recreation centers:  
Kelly Recreation Complex
404 Imperial Boulevard
863.834.3284
Simpson Park Community Center
1725 Martin Luther King Jr. Avenue
863.834.2577 
Residents must show two proofs of City residency and camp participants must have completed kindergarten and not yet entered 6th grade. A parent/legal guardian must verify their child's age with a copy of the camper's most recent report card.
---
Camp Options
Campers may choose between two camp options: Camp Explore and Camp Adventure.
Camp Explore
Camp Explore will include daily enrichment activities and the following:
Weekly Arts & Crafts
Wacky Olympics
Talent Show
Trips:

Bowling
Swimming
Movies
Lakeland Community Theater
Roller Skating
City Tours 
Camp Explore Cost: $450 (Or $225 at Registration, plus 3 additional payments of $75) 
Camp Adventure
There is also Camp Adventure that has everything included with Camp Explore plus trips to the following destinations: 
Theme Park
Lowry Park Zoo
Lakeland Flying Tigers Baseball Game
Tampa Bay Rays Game 
Camp Adventure Cost: $600 (Or $300 at registration plus 3 additional payments of $100)  
---
More Info
Please visit the City's website at lakelandgov.net/camps to find out more information on Camp Blast and the other programs offered by the Parks & Recreation Department.
For more information on the City of Lakeland, please visit lakelandgov.net.  Citizens are also invited to follow the City on Facebook, Twitter, Instagram, Youtube, Vimeo, Snapchat and Nextdoor.  Citizens can find the City of Lakeland on these social media platforms by searching lakelandgov.
---