Portion of South Tennessee Avenue to Close for Sanitary Sewer Project
---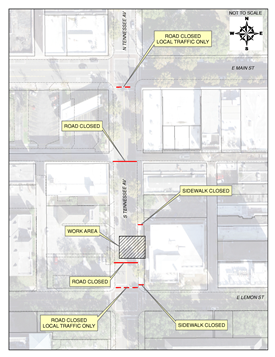 LAKELAND, FL (June 4, 2018) - The City of Lakeland Wastewater Collection Division will perform sanitary sewer work that will impact South Tennessee Avenue just north of East Lemon Street. Work is scheduled to begin on Monday, June 11, 2018 and go until Friday, June 15, 2018. 
South Tennessee Avenue will be closed between East Lemon Street and East Main Street. The portion of South Tennessee Avenue directly adjacent to the work area will be fully closed but local traffic (no through traffic) will be allowed to access parking areas or alleys on either side of the work area. Detour signs will be in place prior to and during construction.  The project requires the impacted area to be closed 24/hours per day until the work is complete.
In addition to the road closure, a portion of the sidewalk along the east side of South Tennessee Avenue directly adjacent to the work area will be closed. Businesses including 124 South Tennessee and 130 South Tennessee will be open with patron access during the course of this project.
Contact
Kevin Cook
Director of Communications
863.834.6264
kevin.cook@lakelandgov.net
---
For additional information about the City of Lakeland, please explore www.lakelandgov.net.  Citizens are also invited to follow the City on Facebook, Twitter, Instagram, Youtube, Vimeo, Snapchat and Nextdoor.  Citizens can find the City of Lakeland on these social media platforms by searching lakelandgov. 
---