Heritage Garage Construction: Pre-Cast Concrete Component Delivery Impacts
---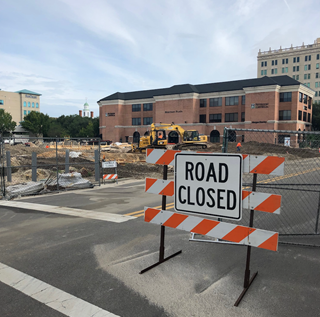 LAKELAND, FL (July 11, 2019) | Starting on Monday, July 22nd pre-cast concrete panels will be delivered to the Heritage Garage site on trucks that measure up to 100' in length.  It is estimated that there will be 12-14 deliveries of the large concrete pieces per business day (Monday-Friday) for approximately 16 weeks.  The very large pre-cast concrete panels will be used to construct the walls of the parking garage structure. 
A one block portion of Orange Street between Kentucky Avenue and Tennessee Avenue will be closed for approximately nine weeks to assist in the off-loading of the pre-cast concrete components. This temporary one-block street closure will start July 22nd and will be in addition to the current closures in place.  Kentucky Avenue between Orange Street and Lemon Street is now closed and will remain closed for the duration of the Heritage Garage project.  Tennessee Avenue closed on Monday, July 8th and will remain closed until August 12th.  The Heritage Garage project is estimated to be completed December 2019. 
City Manager Tony Delgado said, "We recognize the significance of this decision but feel it is necessary in order to complete this project safely and efficiently. Although the road closures are inconvenient, the pre-fab construction process is the most time efficient building method for a project of this size."  He added, "The contractor is actually minimizing congestion and additional impacts to our downtown by casting the panels off-site and delivering them each day. If these large concrete panels were constructed on-site, we would have much greater impacts and inconveniences with hundreds of wet-concrete deliveries.  In addition, the construction area footprint would have to increase in order to have space to build molds for the concrete components."
The large pre-cast concrete panels will be delivered by truck travelling from the Bartow area.  The 100' long trucks will travel on Bartow Highway to Sikes Boulevard making the turn onto Lime Street where the delivery will travel east and turn north onto Kentucky Avenue. Once delivered, the pre-cast concrete components will be picked from the trucks and hoisted into place by a crane.  Traffic will be impacted during deliveries and the flow of traffic downtown will be affected by the temporary road closures.  Those individuals who live, work and visit downtown are encouraged to avoid the construction area and take alternative routes.  Signs will be in place warning motorist about the closures and impacted streets have been placed on Waze and other way-finding apps to educate travelers about the construction project.
The 824-space Heritage Parking Garage is a unique project that has four entities paying for the garage. Each entity will retain ownership of the parking spaces, paying a pro-rated share of the construction and development costs, depending on the number of spaces they own.  The City of Lakeland is purchasing 399 spaces, Lakeland Regional Health Systems is purchasing 125 spaces, MidFlorida Credit Union is purchasing 175 spaces and Heritage Plaza owner BKP Five LLC is purchasing 125 spaces. The cost for the garage is approximately $11 million or $15,736.77 per space. The City of Lakeland's responsibility for the project is $6.3 million.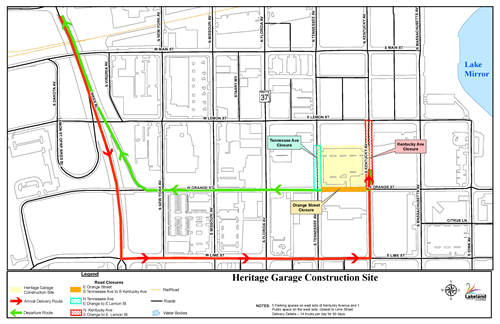 Click on map for full view
Contact
Kevin Cook
---
About Lakeland
The City of Lakeland was incorporated January 1885 and has grown to become one of the largest inland communities in Florida.  With a current population over 100,000 Lakeland continues to grow. It has been designated a Standard Metropolitan Statistical Area by the US Census Bureau for over 30 years.  With tourist attractions and gulf beaches only an hour away, Lakeland continues to capitalize on its ideal central Florida location along the I-4 corridor.  The City owns and operates Lakeland Electric, the third largest publicly owned utility in Florida and it was one of the first to offer power in the Sunshine State over 110 years ago.
For additional information about the City of Lakeland, please explore lakelandgov.net.
Citizens are also invited to follow the City on social media. 
---