Lake Beulah Shoreline Improvement: Shoreline Erosion Restoration & Stabilization Project Using Dredgesox Technology
---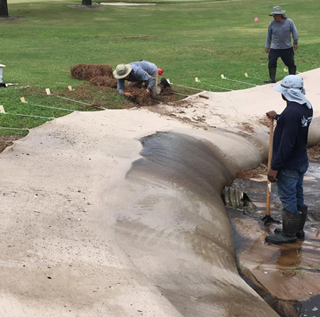 LAKELAND, FL (July 22, 2019) | The City of Lakeland will soon being work to restore approximately 240 linear feet of eroded shoreline on the south side of Lake Beulah. The project is budgeted at $16,000 and it will take approximately 2-4 weeks to complete. The restoration and stabilization project will include the use of Dredgesox technology installed by Lake & Wetland Management, Inc.  Dredgesox liners will be installed along the eroded shoreline, filled with organic sediment dredged from the lake bottom and then covered with sod.  The result is a stabilized, natural looking shoreline that will be protected from future erosion. 
Laurie Smith, Manager of Lakes and Stormwater said, "We have used Dredgesox technology for other restoration projects around our lakes with great success. The area of improvement is adjacent to the multi-use path that is frequently used by citizens. The project is part of the Stormwater Capital Improvement Plan and it's a continuation of the ongoing shoreline improvement for Lake Beulah." Please contact the Lakes & Stormwater Division at 863/834-3300 for any questions or concerns regarding this project.
Contact
Kevin Cook
---
About Lakeland
The City of Lakeland was incorporated January 1885 and has grown to become one of the largest inland communities in Florida.  With a current population over 100,000 Lakeland continues to grow. It has been designated a Standard Metropolitan Statistical Area by the US Census Bureau for over 30 years.  With tourist attractions and gulf beaches only an hour away, Lakeland continues to capitalize on its ideal central Florida location along the I-4 corridor.  The City owns and operates Lakeland Electric, the third largest publicly owned utility in Florida and it was one of the first to offer power in the Sunshine State over 110 years ago.
For additional information about the City of Lakeland, please explore lakelandgov.net.
Citizens are also invited to follow the City on social media. 
---