New York Avenue Cycle Track Ribbon Cutting Ceremony
---
WHO: Lakeland City Commission, Area Dignitaries and Cycling Enthusiast
WHAT: New York Avenue Cycle Track Ribbon Cutting
WHY: Celebrate the Finished Project
WHEN: August 2, 2019 at 10:30 a.m.
WHERE: 221 South New York Avenue – Parking lot at the corner of New York Avenue and Lemon Street
---
LAKELAND, FL (June 29, 2019) | The City of Lakeland will officially celebrate the opening of the New York Avenue Cycle Track with a ribbon cutting ceremony on Friday, August 2nd at 10:30 a.m.  Those attending will gather in the parking lot at the corner of New York Avenue and Lemon Street. Those attending are encouraged to bring a bike and experience the cycle track for themselves immediately following the ribbon cutting ceremony.
New York Avenue is the first street in Lakeland to be converted from two-way operational use, between Lime and Main streets, to a singular northbound travel lane with an adjacent 8-foot wide bike path with yellow delineator posts separating the north and south travel lanes. A concrete median separates vehicles from cyclists.  Majority funding for the $674,000 project was provided by the Florida Department of Transportation who issued a $530,000 grant toward design and construction costs. Lakeland is recognized as a Bicycle Friendly Community by the League of American Bicyclists. 
The League of American Bicyclists now offers the first portion of their Traffic Skills 101 course online for free. Register by visiting http://bikeed.org/courseIntro.aspx and become part of the bicycle-friendly City initiative here in Lakeland, where promoting safe, educated and informed riding is one of our primary objectives.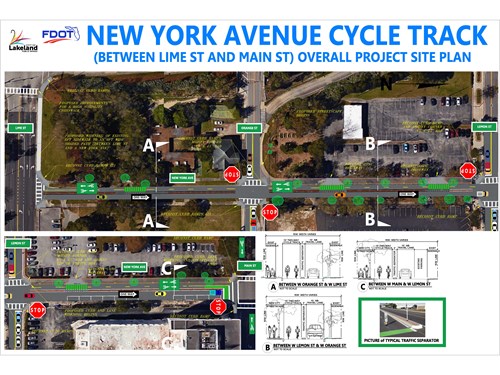 ---
Contact
Kevin Cook
---
About Lakeland
The City of Lakeland was incorporated January 1885 and has grown to become one of the largest inland communities in Florida.  With a current population over 100,000 Lakeland continues to grow. It has been designated a Standard Metropolitan Statistical Area by the US Census Bureau for over 30 years.  With tourist attractions and gulf beaches only an hour away, Lakeland continues to capitalize on its ideal central Florida location along the I-4 corridor.  The City owns and operates Lakeland Electric, the third largest publicly owned utility in Florida and it was one of the first to offer power in the Sunshine State over 110 years ago.
For additional information about the City of Lakeland, please explore lakelandgov.net.
Citizens are also invited to follow the City on social media. 
---