MIDFLORIDA Auto Show Update & Downtown Street Closures
---
LAKELAND, FL (October 18, 2019) | With possible inclement weather on the horizon, the location of the 2019 MIDFLORIDA Auto Show & Lake Mirror Concours has shifted slightly. In order to protect the vehicles from the elements, Saturday's event will now take place in the Iowa Avenue Garage (Iowa Avenue and Orange Street), the Orange Street Garage (309 E Orange Street) and on a portion of Iowa Avenue between Orange Street and Lemon Street.
Cars that are typically parked on the Frances Langford Promenade at Lake Mirror will be in the Iowa Avenue Garage.
Cars that are typically parked in Munn Park will be in the Orange Street Garage.
At this time, no changes have been reported to Budweiser Hot Rod Rendezvous on Friday night (10/18) or the Road Rally on Sunday morning (10/20). 
Street Closures
Streets in Downtown Lakeland will remain closed with the usual footprint of the event on Saturday.
Saturday, October 19, 2019 | 4 AM - 10 AM: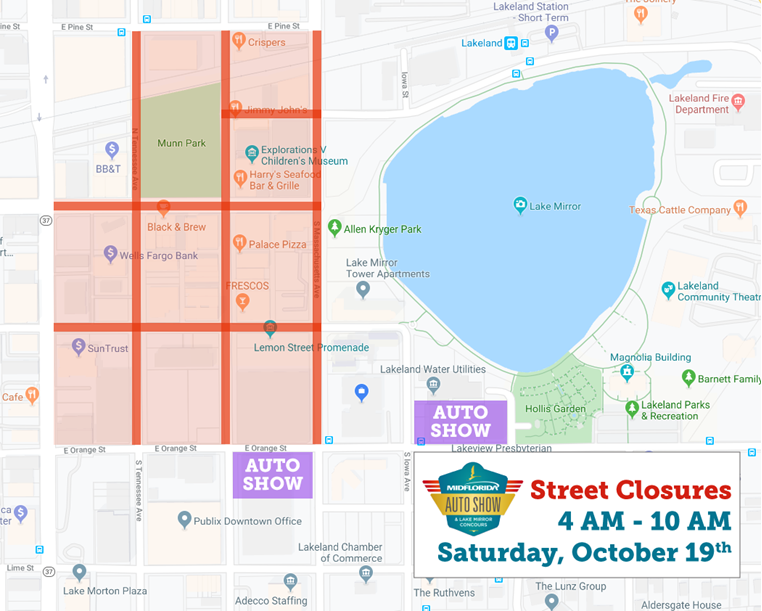 Saturday, October 19, 2019 | 10 AM - 5 PM: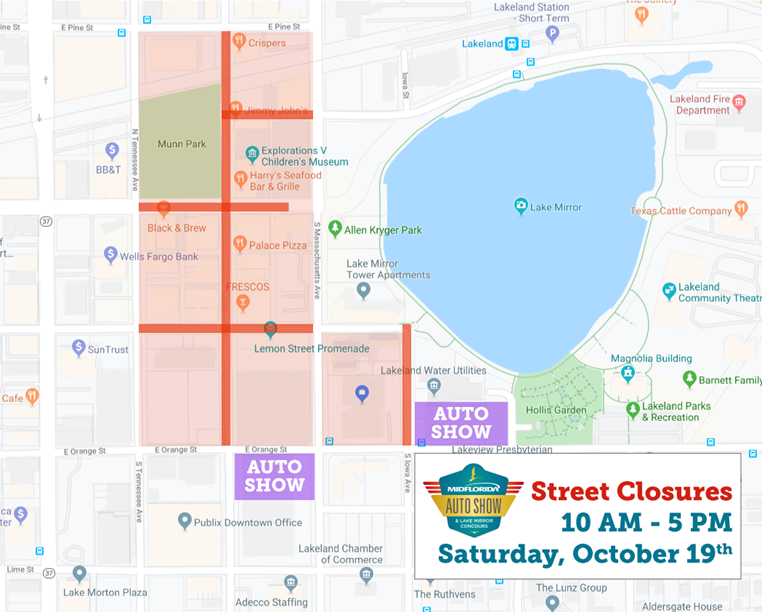 Notice to City Vehicles
City vehicles normally left over the weekend will need to be parked on the upper level (uncovered) and sub-level area of the garage (one level below the administrative reserved parking area).  There is threat of inclement weather over the weekend and the organizers of the show have met with City administration looking for assistance.  Those City employees that normally park in the Iowa Avenue garage, please move cars before the end of business day on Friday so the show cars can start moving into place.  
More Info
Visit midfloridaautoshow.com for a schedule of events and continuing updates throughout the weekend. 
Contact
Elizabeth Repass Hollida
About Lakeland
The City of Lakeland was incorporated January 1885 and has grown to become one of the largest inland communities in Florida.  With a current population over 100,000 Lakeland continues to grow. It has been designated a Standard Metropolitan Statistical Area by the US Census Bureau for over 30 years.  With tourist attractions and gulf beaches only an hour away, Lakeland continues to capitalize on its ideal central Florida location along the I-4 corridor.  The City owns and operates Lakeland Electric, the third largest publicly owned utility in Florida and it was one of the first to offer power in the Sunshine State over 110 years ago.
For additional information about the City of Lakeland, please explore lakelandgov.net.
Citizens are also invited to follow the City on social media. 
---