Barnett Family Park
---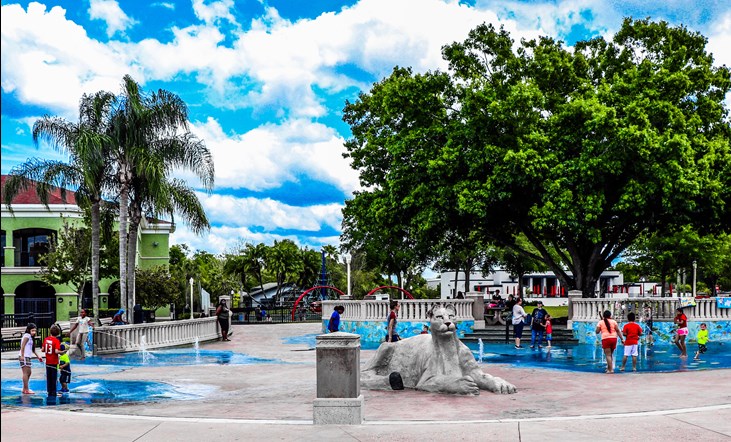 730 E. Orange St.* | Lakeland, FL 33801 | 863.834.2280
Located at the top of the Lake Mirror Amphitheater, Barnett Family Park includes a splash pad water feature, playground (including the Sunflower Preschool Playground), labyrinth, covered picnic area, restrooms, and a multipurpose field.
*Additional parking available north of the Park at 121 S Lake Avenue.
---
Hours
 CLOSED
During a specially called City Commission meeting to discuss the impacts of the COVID-19 virus, a decision was made to close additional City of Lakeland Parks & Recreation facilities in an effort to curb the spread of the coronavirus, including the playground and pavilion at Barnett Family Park beginning Monday, March 23rd until further notice.
Playground
Monday - Friday: 8 am - Just before dusk
Saturday & Sunday: 8 am - Dusk

Pavilion
Monday - Friday: 10 am - Just before dusk
Saturday & Sunday: 8 am - Dusk

Picnic tables are available first come first served. Absolutely no securing of anything to the gates or tables, please.
---
Splash Pad (Water Feature)
10 am - 5 pm
Closed Wednesdays for Maintenance

To help curb the potential impact of Covid-19 the Splash Pad will remain off beginning end of day March 17 for the next 30 days.
The Parks & Recreation Department will close the Main Library, Larry Jackson Branch Library, eLibrary, Simpson Park Community Center, Kelly Recreation Complex, Coleman-Bush Building, Gandy Pool, Lake Mirror Complex, and the Splash Pad at Barnett Family Park the end of the day Tuesday, March 17 for 30 days or until further notice. The rental office at the Lake Mirror Complex will be closed to walk-ins but will be available for phone (863.834.2280) or email correspondence (lakemirrorrentals@lakelandgov.net).
Rules:
- No food, drink or glass allowed on the splash pad
- Water re-circulated and treated. Children should avoid drinking the water.
- Water shoes requested
- Persons with Diarrhea should not use the splash pad
- No pets on the splash pad
We are excited to announce the addition of a brand new water bucket feature!
From time to time the water feature may need to be shut off due to maintenance issues. We appreciate everyone's patience during these times as we work to ensure the safety of the feature. If the water is ever off during open hours please call Gandy Pool at 863.834.3157 for more information. Water may be turned off due to high winds or low temperatures.