Barnett Family Park
---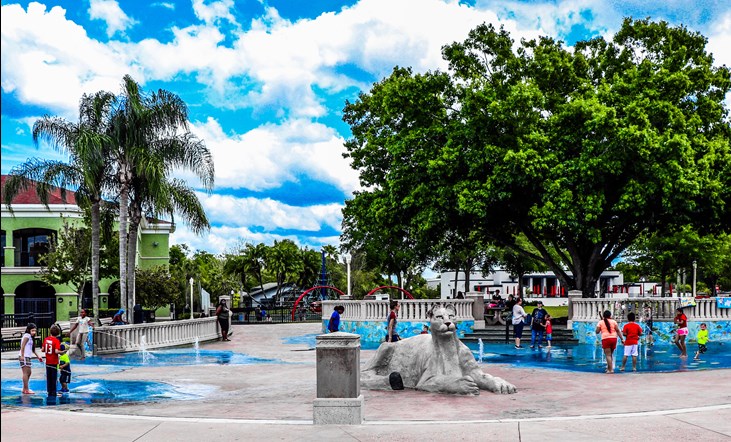 730 E. Orange St.* | Lakeland, FL 33801 | 863.834.2280
Located at the top of the Lake Mirror Amphitheater, Barnett Family Park includes a splash pad water feature, playground (including the Sunflower Preschool Playground), labyrinth, covered picnic area, restrooms, and a multipurpose field.
*Additional parking available north of the Park at 121 S Lake Avenue.
---
Hours
Playground
Monday - Friday: 8 am - Just before dusk
Saturday & Sunday: 8 am - Dusk

Pavilion
Monday - Friday: 10 am - Just before dusk
Saturday & Sunday: 8 am - Dusk

Picnic tables are available first come first served. Absolutely no securing of anything to the gates or tables, please.
---
Carefully consider the use of playgrounds and help children follow CDC & FDOH guidelines
If you choose to visit a playground:
Maintain a distance of at least 6 feet away from people you don't live with. Avoid parks and playgrounds that are crowded.
Be aware that play equipment and picnic areas are not monitored by staff nor disinfected during the ordinary course of the day.
Wash hands with soap and water for at least 20 seconds

Adults and older children who can safely use hand sanitizer: Use hand sanitizer that contains at least 60% alcohol and rub hands together until dry, if soap and water are not readily available.

Wear a cloth face covering, if you can. Cloth face coverings should not be placed on:

Children under age 2;
Anyone who has trouble breathing;
Anyone who is unconscious, can't move, or is otherwise unable to remove the cloth face-covering without assistance.

Bring water and stay hydrated. Public water fountains remaining closed at this time. 
---
Splash Pad (Water Feature)
10 am - 5 pm
Closed Wednesdays for Maintenance

Rules:
- No food, drink or glass allowed on the splash pad
- Water re-circulated and treated. Children should avoid drinking the water.
- Water shoes requested
- Persons with Diarrhea should not use the splash pad
- No pets on the splash pad
We are excited to announce the addition of a brand new water bucket feature!
From time to time the water feature may need to be shut off due to maintenance issues. We appreciate everyone's patience during these times as we work to ensure the safety of the feature. If the water is ever off during open hours please call Gandy Pool at 863.834.3157 for more information. Water may be turned off due to high winds or low temperatures.