Debris Contractors Will Continue Rolling Road Blocks to Remove Storm-Related Debris from Public Right-of-Way
---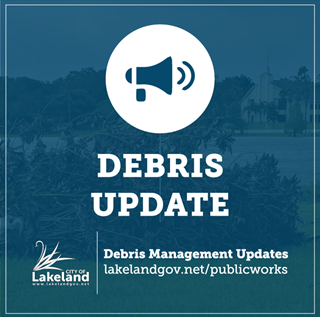 LAKELAND, FL (October 20, 2017) – This past week, the City's storm debris removal contractor, Crowder Gulf had great success in removing storm debris from major roadways by utilizing rolling roadblocks. The same concept will continue to be used as debris contractor Crowder Gulf makes a concentrated effort to remove Hurricane Irma related debris from the public right-of-way. To date, contractors have removed over 4,000 loads totaling over 150,000 cubic yards of storm related debris from the effects of Hurricane Irma.
Greg James, Assistant Director of Public Works said, "The City of Lakeland was impacted significantly with major storm related debris. Under normal operations, the City's Solid Waste Division removes about 100,000 cubic yards of tree limbs and other vegetative waste per year. Immediately after Hurricane Irma passed, our assessment teams estimated that there was over 300,000 cubic yards of storm debris. This is three times the amount that we would normally pick up during a 12-month cycle." 
The rolling roadblocks will help ensure work crew safety and allows the debris removal company to concentrate on removing the piles of storm debris from public right of way. The rolling road blocks will be assisted by the use of patrol units from the Lakeland Police Department. It is imperative that motorist obey the roadblocks and adhere to the rules of the road. Detours will be clearly marked.
Crowder Gulf will mobilize a cadre of units on each major roadway.  This will expedite the removal of debris so sidewalks will be open for public use and vehicle traffic will not be hindered by the debris piles.  James said, "Our goal is to get the City back to normal as quickly as we can.  It is our intent to have the first pass of debris removal done by the end of October.  We can then concentrate on the second and third pass if necessary."  
---
Rolling Roadblock schedule 
| | | |
| --- | --- | --- |
| Day | Time | Street |
| Monday, 10/23 | 9 AM - 4 PM | Crystal Lake Drive (Lake Hollingsworth Drive to Longfellow Boulevard) |
| Tuesday, 10/24 | 9 AM - 4 PM | Hallam Drive |
| Wednesday, 10/25 | 9 AM - 4 PM | Beacon Road |
| Thursday, 10/26 | 9 AM - 4 PM | Alamo Drive |
| Friday, 10/27 | 9 AM - 4 PM | W. Lake Parker Drive |
Crowder Gulf, the FEMA contractor hired for debris removal, will mobilize a cadre of units on each major roadway. This will expedite the removal of debris so sidewalks will be open for public use and vehicle traffic will not be hindered by the debris piles. James said, "Our goal is to get the City back to normal as quickly as we can. It is our intent to have the first pass of debris removal done by the end of October. We can then concentrate on the second and third pass if necessary."