Debris Management: Daily Location Schedule
---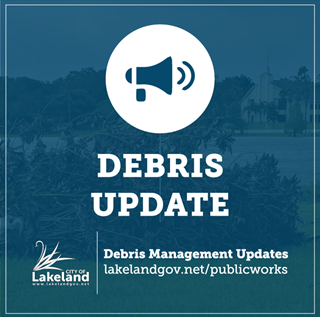 Updated 11/15/2017 | 4:24 PM
As of 11/15/2017, daily debris updates will be posted via the links on our Public Works page.  Please check there for the most up-to-date information regarding the debris removal process in the City of Lakeland.
Note to Customers 
We are asking customers to rake up leaves and small sticks were debris piles were located and place the material in bags or containers to be collected with your regular yard waste on their normal garbage collection day.
Questions & Concerns?
For specific questions concerning your street/neighborhood, etc., please contact Public Works directly at 863.834.6040 or email gene.ginn@lakelandgov.net. 
---