City of Lakeland Seeking Water Donations
---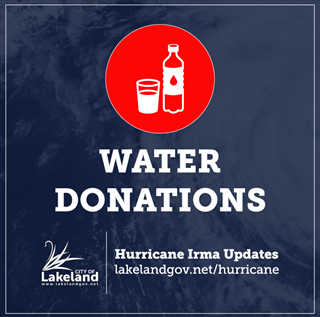 Lakeland, FL (September 13, 2017) 💧 Do you have bottled water that you no longer need and want to donate to those that could truly benefit from it? The City of Lakeland will have a collection site at Kelly Recreation Complex, 404 Imperial Blvd, Thursday, September 14, 2017, from 8 am to 5 pm for drop off.
This water will go to various senior centers, out-of-state crews that are working in Lakeland and other organizations that can assist with dispersal.

A HUGE thanks to those that have already contacted us wanting to do their part during this restoration process!
#iamlakeland #lakelandserves #IrmaLKLD #LKLD