Impacts of Irma: September 11th, 11 AM Update
---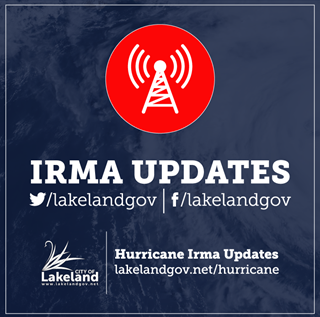 LAKELAND, FL (September 11, 2017 | 11 AM) – The Lakeland Emergency Operations Center has been fully manned since Sunday at 12 p.m.  At the height of the storm, Lakeland experienced sustained winds in excess of 85 m.p.h. The impact due to Hurricane Irma is extensive with major tree canopy damage and over 65% of Lakeland Electric customers are without power. There are isolated reports of flooding, especially in low-lying areas that are prone to drainage issues.  The storm brought heavy winds and rain to the area that has already experienced higher than normal rain levels. 
Lakeland still experiencing 25mph sustained winds. At first light assessment, City facilities seem to have survived the storm with little or no damage.  City offices are closed today, Monday and there will be a decision made later this afternoon regarding a Tuesday, office closure for non-essential personnel.
There is serious tree damage throughout the City. There are assessment teams with boots on the ground now gathering information on total number of trees down. At this time, over 200 trees are known to be down and blocking roadways. Parks & Recreation, Public Works, Community Development, Construction & Maintenance and Lakeland Electric has staff assessing and clearing the roadways from tree debris.
As of this time, Lakeland Electric has 78,430 customers without power.  There are 1,867 outages reported in the system.  There are 60 feeder lines that are out of service.  The first phase in restoration is getting the feeder line backbone back up.  Lakeland Electric has secured assistance to help with clearing trees in utility easements.  That work will start once feeder lines are restored and energized. 
After winds subsided around 3:15 a.m. answered 70 calls for service that were in the queue.
A more comprehensive update will be sent later this afternoon.  The goal is to have a 11am and 3pm update daily during restoration.
---