Impacts to Lakeland: Hurricane Irma | 9/14 - 2 PM Update
---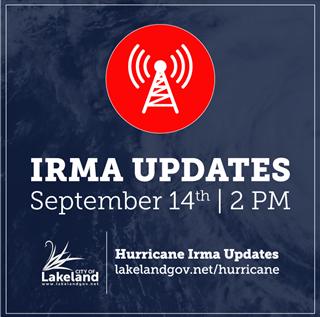 LAKELAND, FL (September 13, 2017) – The Lakeland Emergency Operations Center has been fully manned since Sunday at 12 PM.  At the height of the storm, Lakeland experienced sustained winds in excess of 85 mph. The impact due to Hurricane Irma is extensive with major tree canopy damage and almost 70% of Lakeland Electric customers were without power. There were isolated reports of flooding, especially in low-lying areas that are prone to drainage issues.  The storm brought heavy winds and rain to the area that has already experienced higher than normal rain levels over the summer months. 
---
Hurricane Irma Hotline | 863.834.IRMA
As we continue restoration efforts, a Hurricane Irma Hotline has been established 863.834.IRMA (4762) to help citizens with post storm related issues.
Callers can get information on the following:
Power – Lakeland Electric
Debris Removal
Residential Garbage Collection
Closed Facilities
Elderly Services
Volunteer Opportunities
---
Power Restoration
Lakeland Electric reported that at the height of the storm there were 78,000 customers without power. As of 1 p.m. today, that number has been reduced to approximately 15,000. That number is constantly changing as additional areas have power restored. Sixty-two major distribution circuits were out due to Hurricane Irma.  Currently there are nine large-scale "rebuilding" jobs underway in addition to dozens of small pockets of "restoration" jobs on individual streets and neighborhoods. There are 300 Power Workers setting poles, hanging new transformers and installing miles and miles of electric cable. Restoration crews are wading through water and tree debris to assess damage, cut trees, and re-energizing streets and neighborhoods All ACROSS the Lakeland Electric service territory. Crews are working 16-hour shifts to restore power. Typical damage being reported includes: snapped poles; lines and transformers broken and on the ground; trees and vegetative debris everywhere; and deep, standing water in some locations.


NORTHWEST BIG REBUILDING JOBS:

Gib-Galloway Road
Marcum Road at US 98

West Memorial - E. of Chestnut near 40 Acre Truck Stop
NORTHEAST BIG REBUILDING JOBS:

SOUTHWEST BIG REBUILDING JOBS:

SOUTHEAST BIG REBUILDING JOBS:

Ingraham

Lake Hollingsworth/LHS area

US 98 South

Florida & Brannon Road
---
RP Funding Center Cooling & Charging Stations
The RP Funding Center, home to the Lakeland Magic (NBA G League), will open its doors on Friday, September 15th from 9:00 a.m.-4:00 p.m. to residents still recovering from Hurricane Irma. The Center will be equipped with charging stations (individuals should bring their own charging cords), water, and a kid's play area. The Lakeland Magic will also be sponsoring lunch from 11:00 a.m.-2:00 p.m. and activities will be available for families throughout the day. 
---
Traffic Signals
At the height of the storm over 80% of the traffic signals in the City of Lakeland were without power.  All but a few of the traffic signals now have power. Motorist need to approach intersections with caution and are advised to consider an intersection that has a traffic signal that is out, be treated as a four-way stop. There is still generator powering a few critical intersections and more traffic signals are coming online every hour of the day as power restoration continues.
---
Tree Damage
There is serious tree damage throughout the City. Immediately after the storm, over 500 trees hindered the right-of-way and blocked roadways. Parks & Recreation, Public Works, Community Development, Construction & Maintenance and Lakeland Electric assisted in clearing the roadways from tree debris. The Florida Highway Patrol sent over 50 troopers to assist in cutting trees and restoring roadways. 
---
Garbage Collection - Storm Debris Removal
City of Lakeland solid waste is clearing storm related debris Tuesday and will continue to do so through the week.  Residential solid waste started Wednesday. There will be no recycling pick-up this week.  All trucks are being used to collect garbage and debris. At this time, residents are asked to place any storm generated debris on the public right-of-way.  The public right-of-way is the area of residential property that extends from the street to the sidewalk, ditch, utility pole or easement.  DO NOT BAG DEBRIS.  The City's FEMA contractor will not pick-up bags. Bags will be one of the last items to be picked up and based on current debris levels, it could be weeks.
Keep vegetative debris – woody burnable debris, such as limbs and shrubbery – separated from construction and demolition debris, which will be collected separately.  Bagged debris should not be placed on the public right-of-way, as only loose debris will be collected.  Any household hazardous waste, roof shingles or tires resulting from Hurricane Irma, may be eligible for removal and should be separated at the curb.  Do not place debris near any water meter vault, fire hydrant, mailbox, or other above ground utility equipment.   
Only debris placed on the public right-of-way will be eligible for collection until further notice.  If all debris is not picked up during the initial pass, residents should continue to push remaining debris to the right-of-way for collection on subsequent passes.  Household garbage collection (green containers only) will resume its normal schedule on Wednesday, September 13, 2017.  Information and updates on the debris removal process is posted on the City's web site, www.lakelandgov.net/solidwaste.
---
Property Damage - Home Improvement Permitting
Damage assessment teams have identified 2,671 total structures/improvements damaged from Hurricane Irma, of which 1,032 are mobile homes. In an effort to expedite the issuance of permits during post Hurricane Irma restoration efforts, the City of Lakeland's Building Inspection Division will have increased administrative staff for processing of both walk-in and online permit applications, and will expand office hours to handle increased volume if necessary.  The online permitting application eTRAKiT has been modified to allow application by owner for over the counter permits such as roof repair/replacement, door/window replacement, mechanical (air conditioner) and plumbing repairs, as well as fence repair/replacement.
Inspection hours may also be extended to include evenings and weekends, and part-time or contract inspectors may be used to handle the increased inspection load.  The City of Lakeland will accept affidavits from contractors for reroof inspections, and this may be expanded provided the affidavit is submitted by a Florida licensed architect or engineer.
The Building Inspection Division is committed to helping our community recover, and to making the permit process as simple and convenient as possible.  Please direct any and all questions to the Permit Center at 863.834.6012 or by email to buildinginspection@lakelandgov.net.
---
Curfew
There is a County-wide curfew that has been set in place during the early morning hours 12 AM - 5 AM. The curfew will be in place until further notice. 
---