Lakeland Electric Restoration Update | 9/14 - 9 AM
---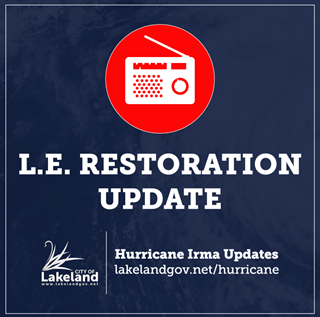 Lakeland, FL (September 14, 2017) It is very hard to give our Lakeland Electric customers an idea when an exact address will get power. We have been working on getting the main distribution lines restored. We started on Monday morning with 62 feeder lines (major distribution lines) down and 78,000 customers without power.
Current Numbers
As of this morning, we have a few more feeder lines that are being restored and will be energized today. This morning we have approximately 20,000 without power. After the remaining distribution lines have been restored and the homes/businesses are energized along these distribution circuits, the majority of the remaining customers without power are probably in the reconstruct/rebuild group. This group has extensive damage to the lines that feed their neighborhoods primarily due to downed trees.
Restoration Info
We have major reconstruction taking place to restore the line to Polk City and some of the areas around Lake Morton, Lake Hollingsworth and Kathleen. These circuits are going to take some major construction.
It is true, if you don't have power by this afternoon when the remaining distribution circuits are restored, then you could be without power for up to one week as the crews make their way through the system, completing the necessary rebuilding of the lines that were impacted.
We want you to have power and we are working diligently to get you power. We know it's frustrating to see your neighbors with power while you are still without—but unfortunately, storms don't discriminate.
City & LE Updates
The City of Lakeland and Lakeland Electric are also pumping information out as quickly as possible via social media (City of Lakeland, Facebook, Twitter, Instagram, Nextdoor | Lakeland Electric Facebook, Twitter, Instagram) via updates to lakelandgov.net/hurricane. 
Radio Feed
We have also put the radio feed on www.lakelandgov.net/tv so you can actually hear our line crews working. We apologize and please be patient. Over 7 million electric customers in Florida were without power after Irma so all utilities that were in the path are working hard to get power restored.
---