Training Captain Matt Brown is Mr. Central Florida Contestant
---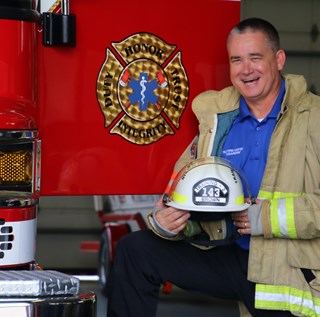 The Lakeland Fire Department is proud to announce that its Training Captain, Matt Brown, is a contestant in the Central Florida Speech and Hearing Center's Mr. Central Florida Contest! The fundraising event helps support the  work the Central Florida Speech and Hearing Center does for the hearing impaired in the City of Lakeland. The winner of the contest is decided by votes. You can show your support by voting for Matt at cfshc.org/contestants. Each vote is only $1.00 and all proceeds benefit  CFSHC patients.
To help Captain Brown, the department is sponsoring a contest for a cause. Vote for Mr. Central Florida Contestant Matt Brown and you could win a once in a lifetime Firefighter for a Day Experience, which includes Lunch with Captain Brown and LFD Calendar Models!
What you win:
Ever wonder what it would be like to be a firefighter? Well here is your chance! This Firefighter for a Day package includes a half day experience (4 hours) with Captain Matt Brown! You will learn more about what goes into running a fire department as large and dynamic as LFD.
This all access experience to the Lakeland Fire Department includes one on one time with on duty firefighters and hands on training experiences. You may get to witness a response to a real emergency call and even have the opportunity to dress up in bunker gear and use tools and equipment reserved for firefighters; creating an immersive hands-on experience. Winners will also receive a goody bag of department branded items and lunch with LFD calendar models. Winners will also have the opportunity to tour several of the department's fire stations.
With the emergency nature of the fire department's work it's hard to say exactly what might happen, but an exciting and memorable time is guaranteed!
How to win:
Now through October 11, 2017 vote for Captain Brown at https://secure.qgiv.com/event/account/529291/ .
In the Donation Message field enter FIREFIGHTER EXPERIENCE CONTEST.
The voter that donates the most wins! Be sure to include your contact information so that we can get in touch once the contest is over. You can vote often so multiple entries are accepted and the total tally of votes (total donation amount) will be summed to select the winner.