Lakeland Fire Department Recognizes Community Effort in Lake Morton Plaza Fire
---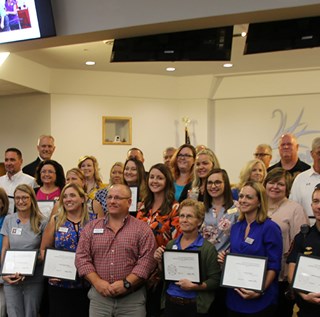 The Lakeland Fire Department, on behalf of the City of Lakeland, made a special presentation at Monday, August 20, 2018 Commission Meeting. The department recognized the dozens of community partners that gave a helping hand during a fire and subsequent evacuation at independent and assisted living facility Lake Morton Plaza. The different groups that helped in a variety of ways (i.e. evacuating residents, providing food and shelter, transporting residents, etc.) were presented with a special certificate of appreciation and small token of thanks by LFD Fire Chief Doug Riley. Learn more about the event and presentation in the letter presented at the meeting (below) or by watching the presentation here. 
Background:
On June 26, 2018 at approximately 12:41 PM, the Lakeland Fire Department (LFD) responded to a call of a structure fire at Lake Morton Plaza. The independent and assisted living facility for older adults is located at 400 S. Florida Avenue, at the busy downtown-corner of S. Florida Ave and Lime Street.  
The fire started on the roof of the 10-story building. The fire was contained to the roof, however has since displaced all 128 residents and 30 staff due to subsequent damage and necessary repairs being needed before residents can reoccupy the building. This incident was significant because it occurred at a property considered to have a higher risk for loss-of-life, due to the concentration of residents and their age, which hinders self-evacuation.
At this particular event, the residents were evacuated by firefighters with assistance from Lake Morton Plaza staff, the Lakeland Police Department, and Polk County Fire Rescue called in for mutual assistance due to the scale of the event.
Recognition:
In the end, approximately four hours after the event started, all residents were evacuated and safely relocated to the RP Funding Center where they could receive further assistance.
Accomplishing this was no small feat, with 128 residents and their pets being evacuated. It was all possible because of a major outpouring of love and support from the Lakeland community, which the Lakeland Fire Department would like to recognize today on behalf of the City of Lakeland.
It was a beautiful example of how neighbors take care of each other in our city. "It takes a village" is a very appropriate term to use when describing what took place that day. Lakeland citizens and visitors alike stopped in that moment and selflessly took action to help.  
Organizations in the private and public sectors contributed assistance and resources to help the displaced residents in need. It was humbling and awing to the Lakeland Fire Department, to see how everyone could come together so easily and effectively in the name of helping those that needed it.
It generates a tremendous sense of pride knowing that Lakeland is such a caring community. To encourage that togetherness and spirit of brotherly love, the department would like to recognize the community partners that helped during and after the event.
The evacuation and assistance efforts were herculean, with many of the elderly residents suffering from mobility and health issues. However, it all seemed easy thanks to those that contributed. From helping move residents, to providing an air conditioned lobby, to transportation, or just offering up a cold drink… these groups got it done. It is important to note there are even more that helped, particularly as individuals, so we apologize if we miss anyone today. Know that you are appreciated.
The following are community partners that helped in some capacity that day.
Lakeland Police Department
Lakeland Communications Center ( 9-1-1 Dispatch)
Polk County Fire Rescue
Citrus Connection
Polk County Emergency Management
RP Funding Center
Lake Morton Plaza Staff and Parent Company Meridian Senior Living
Encompass Home Health
Vitas Healthcare
Kindred at Home
Cornerstone Hospice
Caring for Seniors Nurse Registry
Bank of America
Publix Supermarkets
All-Creatures Animal Hospital
SPCA Florida
Neighboring senior communities like Grace Manor and more.
Jason A. Penrod, Esq
Alex Gomez
 and more.