Portion of S Kentucky Avenue Will Close for Wastewater Visual Inspection
---
What: 100 Block of S Kentucky Avenue Closing
When: September 4, 2018 from 5 AM - 5 PM
---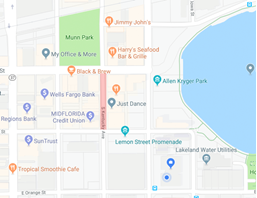 LAKELAND, FL (August 30, 2018) – The 100 Block of South Kentucky Avenue will close on Tuesday, September 4th starting at 5:00 AM for wastewater repairs.  The southbound lane of Kentucky Avenue will be closed to traffic between Main Street and Lemon Street. A section of the sidewalk on the westside of the street will also be impacted while Wastewater crews open the street to examine utility lines along the 100 block.  This action is needed so crews can visually see what is there before a much more intensive project is planned. 
Kim Goldener, Wastewater Superintendent said, "We are looking at the depths for all utilities because there is a 12 inch water main and electric lines in an area with decades old infrastructure.  We need to make sure the space will allow crews to connect a sanitary sewer service for one of our downtown establishments."  She added, "After crews have reviewed the situation, a more extensive closure may be announced if there is a possibility to connect a gravity fed sanitary sewer line in the limited space." Detour signage will be in place notifying vehicle and pedestrian traffic about the South Kentucky lane closure scheduled Tuesday, September 4th from 5:00 AM - 5:00 PM. 
Contact
Kevin Cook
Director of Communications
863.834.6264
kevin.cook@lakelandgov.net
---
About Lakeland
The City of Lakeland was incorporated January 1885 and has grown to become one of the largest inland communities in Florida.  With a current population over 100,000 Lakeland continues to grow. It has been designated a Standard Metropolitan Statistical Area by the US Census Bureau for over 30 years.  With tourist attractions and gulf beaches only an hour away, Lakeland continues to capitalize on its ideal central Florida location along the I-4 corridor.  The City owns and operates Lakeland Electric, the third largest publicly owned utility in Florida and it was one of the first to offer power in the Sunshine State over 110 years ago.
For additional information about the City of Lakeland, please explore lakelandgov.net.
Citizens are also invited to follow the City on social media.
---