Douglas Cook Park Grand Opening
---
Ray Lewis Celebrating Pro-Football Hall of Fame Induction
---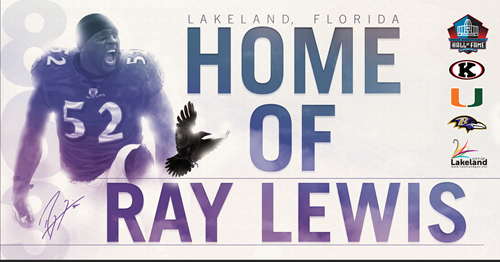 LAKELAND, FL (July 27, 2018) - The City of Lakeland will have the Grand Opening Celebration and Ribbon Cutting for Douglas Cook Park on Saturday, August 25th.  The celebration will start at 11:30 AM with a dedication ceremony that will feature Ray Lewis, Class of 2018 Pro Football Hall of Fame inductee. Lewis among others will cut the ribbon, officially opening the park. Cook Park is located at 955 Wedgewood Estates Boulevard, Lakeland, FL 33809.
Ray Lewis
Lewis was an All-American linebacker and State Champion wrestler at Kathleen High School before going to the University of Miami where he dominated at middle linebacker for three years before being drafted by the Baltimore Ravens in 1996.  He played at Baltimore for 17 years winning two super bowls. He will be inducted into the Pro Football Hall of Fame as a member of the 2018 Class.
Douglas Cook
Douglas Cook donated the 18-acre parcel of land south of Carpenter's Way to the City of Lakeland Parks & Recreation Department as part of the Lake Gibson Village Senior Living Community Project. City Manager Tony Delgado said, "Originally, Lake Gibson Village agreed to lease the sports fields that were part of the Evangel Christian School to the City of Lakeland for $1 per year.  That started a dialogue that grew into something much bigger and now we are excited to open a neighborhood park with a youth sports field in Mr. Cook's honor." 
Cook Park
Bob Donahay, City of Lakeland Parks & Recreation Director said, "This site is a prime piece of real estate that features a multi-purpose field with permanent lighting, walking path, basketball court, modular playground and a dog park area.  The park also has a building that contains concession opportunities and restrooms, so we can host youth sports leagues."  He added, "In fact we have youth football playing the day we open the park."
"This is a win-win and the City of Lakeland is extremely grateful that we have partners like Lake Gibson Village and the Cook Family that care about the well-being of the community, enough to donate park land valued at $2.25 million," said Delgado. "This park is a much-needed facility the surrounding neighborhood will enjoy and the sports fields will allow us to address the immediate needs of youth sports programs." 
Ray Lewis Hall of Fame Celebration Events
There are a number of activities taking place over the weekend celebrating Lewis being named in the Pro Football Hall of Fame including a Celebrity Golf Tournament at Cleveland Heights Golf Course with proceeds benefitting multiple scholarship funds.  The tournament is August 24th with on-site registration beginning at 7 AM and 8 AM shotgun start.  Celebrity guests include Ed Reed, Gary Sheffield, Warren Sapp, Cecil Fielder and more.  Those interested in playing contact Clinton Glover at 863.838.4031 or clglover51@aol.com.
Kathleen High School will also have a dedication and billboard unveiling honoring Ray Lewis at 2 PM on Saturday August 25th in the Kathleen High School gym.  The public is encouraged to attend.
About Lakeland
The City of Lakeland was incorporated January 1885 and has grown to become one of the largest inland communities in Florida.  With a current population over 100,000 Lakeland continues to grow. It has been designated a Standard Metropolitan Statistical Area by the US Census Bureau for over 30 years.  With tourist attractions and gulf beaches only an hour away, Lakeland continues to capitalize on its ideal central Florida location along the I-4 corridor.  The City owns and operates Lakeland Electric, the third largest publicly owned utility in Florida and it was one of the first to offer power in the Sunshine State over 110 years ago.
Contact
Kevin Cook
Director of Communications
863.834.6264
kevin.cook@lakelandgov.net
---
For additional information about the City of Lakeland, please explore lakelandgov.net.
Citizens are also invited to follow the City on social media.
---