Portion of Dog Leg Woods Dog Park to Close
---
Drainage Repairs Needed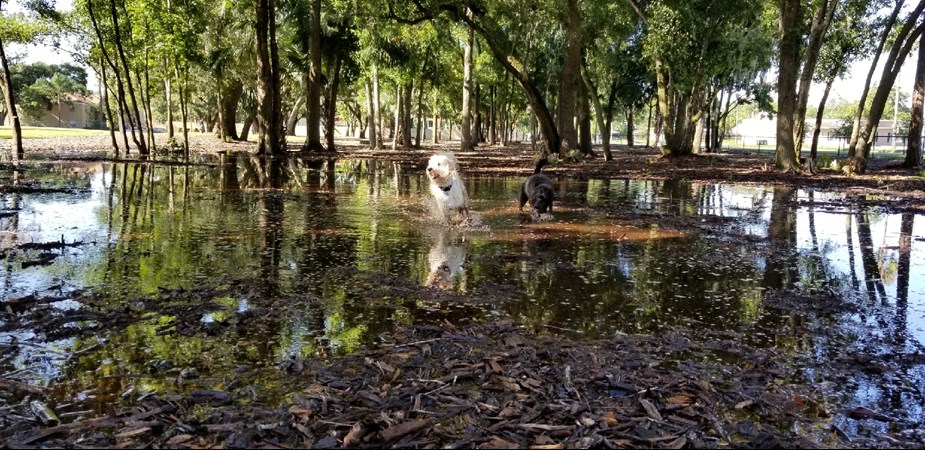 LAKELAND, FL (July 2, 2018) - The City of Lakeland will officially close a portion of Dog Leg Woods Dog Park because of standing water issues in the large dog area.  The large dog area will be closed starting Tuesday, July 3rd for approximately one week while Parks & Recreation crews remove the existing standing water and work on a drainage solution that will mitigate the issue.
Bob Donahay, Director of Parks & Recreation said, "We apologize about the inconvenience, but we need to get into the large dog area and fix what has become a drainage issue.  It is unbelievable how much rain we have received over the past two months."  He added, "Standing water in the large dog area is not a feature that we want in the park, so we will be implementing a short-term fix and a long-term solution."
The small dog area will remain open during the drainage project and all of the established rules for Dog Leg Woods Dog Park still apply.  Visitors with large dogs are asked to not use the small dog area and please adhere to the closure during the project.
Dog Leg Woods is the second City of Lakeland Dog Park that was opened March 10th. It is a very popular park that can be accessed off Three Parks Trail, adjacent to Cleveland Heights Boulevard.  There is a 15-space parking lot near the park entrance and visitors can park in the south lot at Cleveland Heights Golf Course and use Three Parks Trail to get to Dog Leg Woods.  Cleveland Heights Golf Course has established a dog friendly back porch, so adults can enjoy food and drink as part of their visit to Dog Leg Woods. 
Alternate Dog Park
Owners of large dogs are encouraged to visit the large dog park at Lake Crago as an alternative. 
Contact
Kevin Cook
Director of Communications
863.834.6264
kevin.cook@lakelandgov.net
---
For additional information about the City of Lakeland, please explore www.lakelandgov.net. Citizens are also invited to follow the City on Facebook, Twitter, Instagram, Youtube, Vimeo, Snapchat and Nextdoor.  Citizens can find the City of Lakeland on these social media platforms by searching lakelandgov. 
---