Lemon Street Public Art: 2018 Florida Outdoor Sculpture Competition
---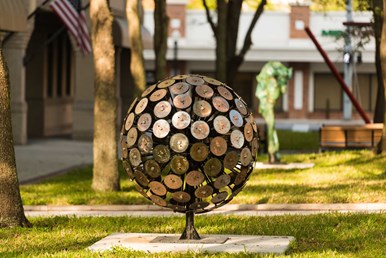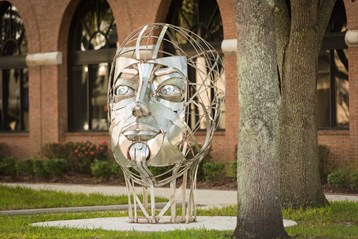 LAKELAND, FL (March 1, 2018) - The 18th Florida Outdoor Sculpture Competition is on display along the Lemon Street Promenade now through the end of 2018. Many may not be aware that the sculptures found on Lemon Street are a part of a special exhibit that changes annually. This year's Florida Outdoor Sculpture Competition has brought a diverse array of public art to downtown Lakeland.
In the fall of 2017, artists interested in displaying their work were asked to submit sculptures. A jury comprised of City staff, Polk Museum of Art representatives and members from the local arts community gathered to review the pieces of art. Thirty artists submitted 65 sculptures for review with the jury picking 10 of the very best to be displayed along Lemon Street. This year's sculptures have been created from a wide variety of media including aluminum, bronze, marble, steel, wood and glass.  The 10 pieces of art cover three blocks of Lemon Street between South Florida and Massachusetts Avenue.   
The artwork along the Lemon Street Promenade provides a great aesthetic that can be enjoyed on a weekend stroll or even during a lunch break. Pam Page, Deputy Director of Parks said, "The sculptures on Lemon Street were introduced to provide free access to public art for all who live and visit our community. We are fortunate to live in a City that recognizes the value of public art that introduces culture and well- being." There is definitely a theme of repurposed steel with the pieces on display. The tallest sculpture is Athena Shrine by artist Jonathan Schork. This large piece reaches over 22 feet in height and it is made out of steel, aluminum and LED lighting.
---
| | |
| --- | --- |
| Sculpture | Artist |
| Cauldron Teats | Jonathan Bowling |
| Athena Shrine | Jonathan Schork |
| Mare & Filly | Jonathan Bowling |
| Silver | Robert Stentiford |
| Re-Cycled | Jaron Charzewski |
| Gaia | Donald Gialanella |
| Sea Horse Serafina | Lee Bell |
| Tide Pool with Shrimp | Judith Greavu |
| Harbinger | Chris Plaisted |
| Global Marker | Glenn Zweygardt |
Repurposed items are found on a few of the sculptures including the cow called Cauldron Teats, Re-Cycled made out of bicycle chain rings as well as the Mare and Filly piece by Jonathan Bowling. "The materials I use are often from the turn of the last century, which I feel is appropriate for depicting an animal so intertwined with our agrarian past," said Bowling. "Repurposed steel provides a sound structure which allows me to work on a scale that lends itself to public spaces."  
For additional information on the Florida Outdoor Sculpture Competition including photographs and artist bios, please visit lakelandgov.net/flosc.
---
People's Choice Award
Starting in April, City of Lakeland Facebook fans will be asked to vote for their favorite piece of art for the coveted "People's Choice Award."
---
Please visit lakelandgov.net to find out more information regarding the City of Lakeland.  Citizens are also invited to follow the City on Facebook, Twitter, Instagram, Youtube, Vimeo, Snapchat and Nextdoor.  Citizens can find the City of Lakeland on these social media platforms by searching lakelandgov.  
---