City of Lakeland Launches Website & Survey Seeking Opinions on Lake Morton Drive Safety Enhancements
---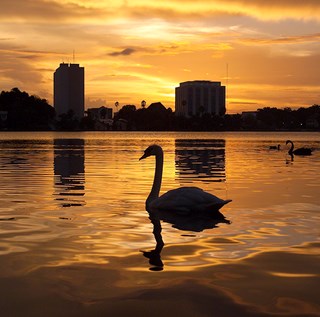 Pedestrian Severely Injured & Seven Swans Hit During Four Week Period
LAKELAND, FL (September 24, 2018) | A number of incidents have happened on Lake Morton Drive over the past several weeks involving distracted drivers.  Most recently a pedestrian was severely injured when they were struck by a motorist while in a crosswalk.  Seven swans have been hit by motorist and five of those swans have died due to injuries.  All of this happened over a four-week time period.
The City of Lakeland wants your thoughts on what we can do to enhance the safety and mobility for all roadway users on Lake Morton Drive.  A website and survey have been developed so users can learn about the issue, study suggested safety enhancements and share opinions on possible solutions. Visit www.lakelandgov.net/citizenperspectives to take the survey and share feedback. The survey will be open now through Sunday, October 7th at 5 PM.
Objective
To enhance the safety, accessibility and mobility for all roadway users including the wildlife on Lake Morton Drive in a sustainable (long-lasting) and cost-effective manner that compliments the aesthetics of the surrounding neighborhood.
This objective can be met by managing operating speeds, managing accessibility to the lake and moderating motorist behavior.  The City of Lakeland's Public Works Department has outlined five possible solutions that meet the objective along with a public safety campaign.  There are examples of each one of these possible solutions on the website and survey link: www.lakelandgov.net/citizenperspectives.
Marked Parking
Raised Crosswalks
Rectangular Reflective Flashing Beacon
Bulb Out
Landscaped Medians
Background
A recent traffic study concluded that there are 5,128 drivers who use Lake Morton Drive on a daily basis with 518 vehicles using the road during the peak hour at 5 p.m. The posted speed limit on Lake Morton Drive is 25 mph. The traffic study indicates drivers average 18 mph while traveling around the lake, so speeding is not the primary issue. All factors indicate these incidents were caused by distracted drivers who are not paying attention to their immediate surrounding. According to the Lakeland Police Department, accidents are up 10-15% because drivers are using their mobile phones and other devices while driving. Lake Morton is home to over 60 swans that are cared for by the City of Lakeland.  There is also a very large population of ducks, geese and other water fowl that call the lake home.  The area is a very popular destination for families, walkers, joggers and cyclists.  Solutions being explored need to enhance the safety, accessibility, and mobility for all of our users and wildlife.
Edited 10/1/17
Contact
Kevin Cook
Director of Communications
863.834.6264
kevin.cook@lakelandgov.net
---
About Lakeland
The City of Lakeland was incorporated January 1885 and has grown to become one of the largest inland communities in Florida.  With a current population over 100,000 Lakeland continues to grow. It has been designated a Standard Metropolitan Statistical Area by the US Census Bureau for over 30 years.  With tourist attractions and gulf beaches only an hour away, Lakeland continues to capitalize on its ideal central Florida location along the I-4 corridor.  The City owns and operates Lakeland Electric, the third largest publicly owned utility in Florida and it was one of the first to offer power in the Sunshine State over 110 years ago.
For additional information about the City of Lakeland, please explore lakelandgov.net.
Citizens are also invited to follow the City on social media. 
---