New 20 MPH Speed Limit Signs to be Installed on Lake Morton Drive
---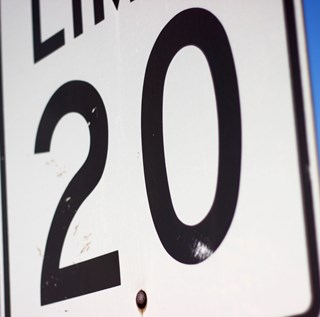 Pedestrian Severely Injured & Seven Swans Hit During Four Week Period
LAKELAND, FL (September 27, 2018) | The City of Lakeland will soon be installing new 20 MPH speed limit signs along Lake Morton Drive.  Once the signs are installed, the newly enforced speed around Lake Morton Drive will be 5 MPH less than what it is currently.  Angelo Rao, Manager of Traffic Operations said, "A number of incidents have taken place within a four week time period that involved distracted drivers.  Five swans were killed but most importantly, a pedestrian was struck by a vehicle and that person was severely injured."  He added, "The City recently met with the Lake Morton Neighborhood Association and we launched a survey tool to help gain insight on possible solutions to enhance the safety for all of our Lake Morton users. One of the ideas generated from our neighborhood meeting was reducing the posted speed limit."  Rao stated that new 20 MPH speed limit signs are being created in the City of Lakeland sign shop and will be installed within the next week. 
Citizen Input
The City of Lakeland is looking for citizen input on ways to enhance the safety and mobility for all roadway users on Lake Morton Drive.  Citizen Perspectives is a survey tool developed by City of Lakeland staff so users can review the issue, study suggested safety enhancements and share opinions on possible solutions. Visit lakelandgov.net/citizenperspectives to take the survey and share feedback.
The survey is open through the end of day Sunday, October 7th.  
Kevin Cook, Director of Communications said, "Citizen Perspectives is a great way to inform our citizens regarding issues through a story board and the survey tool provides valuable insights that will help City staff make decisions.  This tool is a powerful way to engage the public into the decision making process."
Survey Objective
To enhance the safety, accessibility and mobility for all roadway users including the wildlife on Lake Morton Drive in a sustainable (long-lasting) and cost-effective manner that compliments the aesthetics of the surrounding neighborhood.
The City of Lakeland's Public Works Department has outlined five possible solutions that meet the objective along with a public safety campaign.  There are examples of each one of these possible solutions on the website and survey link:
Marked Parking
Raised Crosswalks
Rectangular Reflective Flashing Beacon
Bulb Out
Landscaped Medians
Background
A recent traffic study concluded that there are 5,128 drivers who use Lake Morton Drive on a daily basis with 518 vehicles using the road during the peak hour at 5 PM. The posted speed limit on Lake Morton Drive is 25 MPH. The traffic study indicates drivers average 18 MPH while traveling around the lake, so speeding is not the primary issue. New 20 MPH speed limit signs will soon replace the current signs reducing the enforced speed limit by 5 MPH.
All factors indicate distracted drivers are the primary cause of the incidents. 
According to the Lakeland Police Department, accidents are up 10-15% because drivers are using their mobile phones and other devices while driving. Lake Morton is home to over 60 swans that are cared for by the City of Lakeland.  There is also a very large population of ducks, geese and other water fowl that call the lake home.  The area is a very popular destination for families, walkers, joggers and cyclists.  Solutions being explored need to enhance the safety, accessibility, and mobility for all of our users and wildlife.
Contact
Kevin Cook
Director of Communications
863.834.6264
kevin.cook@lakelandgov.net
---
About Lakeland
The City of Lakeland was incorporated January 1885 and has grown to become one of the largest inland communities in Florida.  With a current population over 100,000 Lakeland continues to grow. It has been designated a Standard Metropolitan Statistical Area by the US Census Bureau for over 30 years.  With tourist attractions and gulf beaches only an hour away, Lakeland continues to capitalize on its ideal central Florida location along the I-4 corridor.  The City owns and operates Lakeland Electric, the third largest publicly owned utility in Florida and it was one of the first to offer power in the Sunshine State over 110 years ago.
For additional information about the City of Lakeland, please explore lakelandgov.net.
Citizens are also invited to follow the City on social media. 
---