PUBLIC MEETING: Proposed Roundabout at Main Street, Sloan Avenue, Lake Beulah Drive
---
LAKELAND, FL (April 9, 2019) | The City of Lakeland will conduct two public meetings to share plans for the proposed roundabout at the intersection of Main Street, Sloan Avenue and Lake Beulah Drive. The two public meetings will be held on Wednesday, April 17, 2019 and Wednesday, April 24, 2019 in the Cafeteria of R.W. Blake Academy located at 510 Hartsell Avenue, Lakeland, Florida 33815. Both meetings will begin at 5:30 p.m. with an open-house format followed by a project presentation at 6:00 p.m. The proposed improvements include converting the signalized intersection into a single lane roundabout with four access points and constructing a Cul-De-Sac at the end of West Lake Beulah Avenue along with additional passive recreational areas. This public meeting is being conducted to give interested persons an opportunity to express their views concerning the location, conceptual design and impacts of the proposed improvements. 
Citizens can submit commits in addition to attending the public meeting through postal mail but please note comments must be postmarked no later than May 3, 2019. Comments can also be sent through email and must be directed to D'Ariel.Reed@lakelandgov.net. Public participation is solicited without regard to race, color, national origin, age, sex, religion, disability, or family status.  Persons who require special accommodations under the Americans with Disabilities Act (ADA) or persons who require translation services (free of charge) should contact Ms. Jenny Sykes at 863.834.8444 at least seven days prior to the meeting.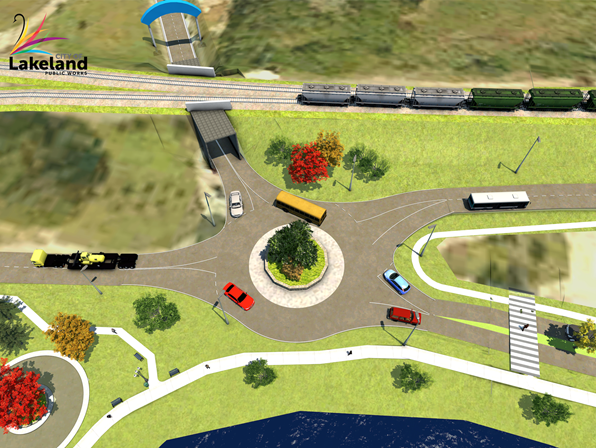 Contact
Kevin Cook
Director of Communications
863.834.6264
kevin.cook@lakelandgov.net
---
About Lakeland
The City of Lakeland was incorporated January 1885 and has grown to become one of the largest inland communities in Florida.  With a current population over 100,000 Lakeland continues to grow. It has been designated a Standard Metropolitan Statistical Area by the US Census Bureau for over 30 years.  With tourist attractions and gulf beaches only an hour away, Lakeland continues to capitalize on its ideal central Florida location along the I-4 corridor.  The City owns and operates Lakeland Electric, the third largest publicly owned utility in Florida and it was one of the first to offer power in the Sunshine State over 110 years ago.
For additional information about the City of Lakeland, please explore lakelandgov.net.
Citizens are also invited to follow the City on social media. 
---