30-Inch Force Main Project Impacting Cleveland Heights Boulevard: Rain Delays Add Another Two Weeks to the Project
---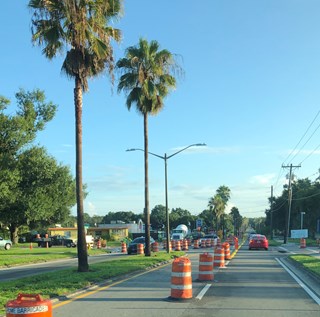 LAKELAND, FL (August 8, 2019) | The City of Lakeland is constructing 3,820 feet of very large 30-inch pipeline along Azalea Street and Eastway Drive that is impacting traffic as the construction crosses Cleveland Heights Boulevard. The project also impacts a portion of Dog Leg Woods Dog Park. The project is part of the larger English Oaks Force Main Project being constructed to better serve southwest Lakeland. Due to rain and other delays, it is projected that it will take an additional two weeks to cross Cleveland Heights Boulevard.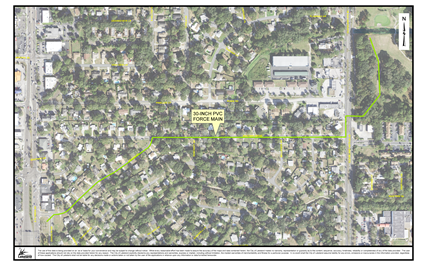 City Manager Tony Delgado said, "Initially we projected the pipe crossing Cleveland Heights Boulevard would be installed by the time public school starts on Monday, August 12th. Unfortunately, we have experienced a lot of rain that has caused construction delays and now our project engineers are telling us it will take another two weeks to get Cleveland Heights Boulevard back to normal." He added, "The goal is now August 26th but we still have to complete construction, pack the roadbed and resurface before we can return the road to normal operations.  This is a big project and once we cross Cleveland Heights Boulevard, there is still much more work to be done on Eastway Drive and Azalea Street." 
The contractor initially mobilized July 8th to start on the portion of the project that crosses Cleveland Heights Boulevard. At that time it was estimated that the impacts to Cleveland Heights Boulevard would be approximately five-weeks to cross all four lanes of the road. This has now been extended to seven-weeks from the start of the project. Cleveland Heights Boulevard has traffic shifts in place, reducing the road to two lanes between Robin Road and Raintree Boulevard while the construction is taking place.
The crossing of Dog Leg Woods Dog Park will be a continuation of the project after the large pipe crosses Cleveland Heights Boulevard.  This portion of the project will happen in August and will last approximately three weeks.  Dog Leg Woods Dog Park will be temporarily reduced in size from four acres to two acres.  Fencing will be installed to keep the dog park open during this phase of the 30-inch water main construction project. 
The final part of the installation of pipe will take place along Eastway Drive, continue to Azalea Street and will connect to pipe at South Florida Avenue.  This final leg of the project is expected to start in September and will take approximately three months to complete.  During this phase of the project, local traffic on Eastway and Azalea will be open to one lane of local traffic.
Digital message boards and warning signs are posted to notify the public about the construction activity.  Local residents and business impacted by the construction activity have been notified and will continue to be updated during the duration of the project.
Contact
Kevin Cook
---
About Lakeland
The City of Lakeland was incorporated January 1885 and has grown to become one of the largest inland communities in Florida.  With a current population over 100,000 Lakeland continues to grow. It has been designated a Standard Metropolitan Statistical Area by the US Census Bureau for over 30 years.  With tourist attractions and gulf beaches only an hour away, Lakeland continues to capitalize on its ideal central Florida location along the I-4 corridor.  The City owns and operates Lakeland Electric, the third largest publicly owned utility in Florida and it was one of the first to offer power in the Sunshine State over 110 years ago.
For additional information about the City of Lakeland, please explore lakelandgov.net.
Citizens are also invited to follow the City on social media. 
---