Accessibility Update: Sidewalk Accessibility Ramps at Iowa & Orange
---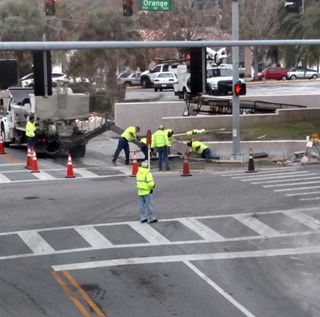 Lakeland, FL (February 6, 2019) | A City concrete crew recently worked to bring sidewalk accessibility ramps, at the intersection of Iowa Avenue and Orange Street into compliance with the Americans with Disabilities Act (ADA).
Curb ramp replacement is part of the City's asphalt preservation and resurfacing program.  In advance of a scheduled asphalt treatment or resurfacing project, all curb ramps are inspected for ADA compliance.  Those that are found out of compliance are reconstructed prior to the commencement of the project. A resurfacing project on Orange St. is scheduled for later this year.
There are more than 4,000 City maintained curb ramps. How many of these need rebuilding to ADA standards will be determined in the results of the ADA Transition Plan Self-Assessment, which The City is now conducting.
The most common deficiencies are slope, alignment with crosswalk, width, and lack of truncated domes, which are the, raised bump, surface indicators designed to assist pedestrians who are visually impaired.
In FY 2018, the City reconstructed 201 curb ramps at a cost of $205,397. Each intersection takes 4-6 working days for reconstruction and costs approximately $4,000 per intersection. These projects are funded through the Transportation Fund, revenue which comes from gas tax collections. 
#lakelandatwork
Contact
Kevin Cook
Director of Communications
863.834.6264
kevin.cook@lakelandgov.net
---
About Lakeland
The City of Lakeland was incorporated January 1885 and has grown to become one of the largest inland communities in Florida.  With a current population over 100,000 Lakeland continues to grow. It has been designated a Standard Metropolitan Statistical Area by the US Census Bureau for over 30 years.  With tourist attractions and gulf beaches only an hour away, Lakeland continues to capitalize on its ideal central Florida location along the I-4 corridor.  The City owns and operates Lakeland Electric, the third largest publicly owned utility in Florida and it was one of the first to offer power in the Sunshine State over 110 years ago.
For additional information about the City of Lakeland, please explore lakelandgov.net.
Citizens are also invited to follow the City on social media. 
---