Lake Hunter Update
---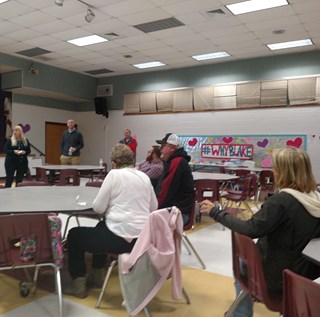 Lakeland, FL (February 5, 2019) | A group of concerned residents gathered in the R. W. Blake Academy Cafeteria the night of January 30, 2019 to learn about the upcoming water quality improvement project for stormwater treatment, designed to benefit Lake Hunter.
Key Takeaways:
Lake Hunter is designated as "impaired" by the Florida Department of Environmental Protection (DEP) due to unacceptable levels of nitrogen and phosphorous, mostly caused by use of fertilizers.
The DEP has required the city to take corrective action to reduce these levels in Lake Hunter.
Therefore, Lake Hunter has been designated as the "priority lake" for remediation.
The project, designed by City engineers, is funded through a 50/50 matching fund from city stormwater fees and contributions from The Southwest Florida Water Management District. It will be located west of Harden Blvd. in the wooded area, south of the Harden Blvd. entrance to the RP Funding Center overflow parking lot.
The project will consist of four treatment ponds and a baffle box they will be used to treat overflow discharge from Lakes Beulah and Wire, along with stormwater collected from area streets headed for Lake Hunter.
The Baffle box is designed to collect large objects and litter carried by stormwater runoff. The ponds will, naturally, remove over 58 lbs. of phosphorus, 285 lbs. of nitrogen and 18,000 lbs. of sediment, annually.
Another benefit of the project will be to rehydrate the existing neighboring wetlands which have deteriorated over time.
The baffle box will be outfitted with a transparent cover and a sidewalk will be constructed from Harden Blvd. through the project, to allow the public to observe the wildlife, which is expected to return, and become educated on how the process works.
Its proximity to Blake Academy will allow the project to be used to educate future generations of the importance of responsible use of fertilizers and the need to keep pollutants out of storm drains.
Construction is scheduled to begin in April with completion, expected, in December 2019.
Contact
Kevin Cook
Director of Communications
863.834.6264
kevin.cook@lakelandgov.net
---
About Lakeland
The City of Lakeland was incorporated January 1885 and has grown to become one of the largest inland communities in Florida.  With a current population over 100,000 Lakeland continues to grow. It has been designated a Standard Metropolitan Statistical Area by the US Census Bureau for over 30 years.  With tourist attractions and gulf beaches only an hour away, Lakeland continues to capitalize on its ideal central Florida location along the I-4 corridor.  The City owns and operates Lakeland Electric, the third largest publicly owned utility in Florida and it was one of the first to offer power in the Sunshine State over 110 years ago.
For additional information about the City of Lakeland, please explore lakelandgov.net.
Citizens are also invited to follow the City on social media. 
---