Lake Morton Drive Will Be Resurfaced Starting February 18th
---
Number of Safety Enhancements Included in the Project
---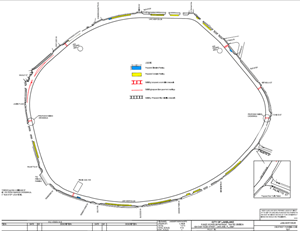 LAKELAND, FL (February 7, 2019) | City of Lakeland crews will start resurfacing Lake Morton Drive starting Monday, February 18th.  The project is expected to be completed on or before Thursday, February 28th.   The road will be open with lane closures for the duration of the project, so motorists should expect delays if traveling on Lake Morton Drive.
The project will include two Rectangular Reflective Flashing Beacon (RRFB) systems that will be installed at the crossing near Louise Place and the crossing near Chiles Street (this crossing may be moved about 20-50 feet to the south to improve drainage).
Angelo Rao, Manager of Traffic and Parking Operations said, "The design enhancements came about after we started looking at ways to improve safety around Lake Morton.  We lowered the speed from 25 mph to 20 mph and we installed designated parking boxes.  These next improvements are part of the overall solution to enhance safety for all of our Lake Morton users."
A number of traffic improvements will be completed during the project including the removal of the left turn lane on Lake Morton Drive turning onto East Palmetto Street.  A new "double-yellow center line" will be installed at this location.  The Lake-to-Lake connector on Johnson Avenue will get an enhancement because the two existing westbound lanes on East Palmetto will be converted to one westbound lane with five-foot-wide eastbound and westbound bicycle lanes connecting Palmetto to Johnson Avenue.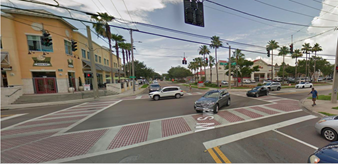 Rao said, "We will also be installing the ladder type crosswalks on Lake Morton Drive designed with red brick herring bone contrasts.  This will not only be very attractive but the crosswalks will stand out, ultimately enhancing safety through aesthetically pleasing design." See attached photo for example of crosswalk design and attached map for improvement details.
Contact
Kevin Cook
Director of Communications
863.834.6264
kevin.cook@lakelandgov.net
---
About Lakeland
The City of Lakeland was incorporated January 1885 and has grown to become one of the largest inland communities in Florida.  With a current population over 100,000 Lakeland continues to grow. It has been designated a Standard Metropolitan Statistical Area by the US Census Bureau for over 30 years.  With tourist attractions and gulf beaches only an hour away, Lakeland continues to capitalize on its ideal central Florida location along the I-4 corridor.  The City owns and operates Lakeland Electric, the third largest publicly owned utility in Florida and it was one of the first to offer power in the Sunshine State over 110 years ago.
For additional information about the City of Lakeland, please explore lakelandgov.net.
Citizens are also invited to follow the City on social media. 
---