FDOT Will Hold an Open-House Style Public Meeting to Inform Citizens About Upcoming S Florida Ave Road Diet Project Through Dixieland
---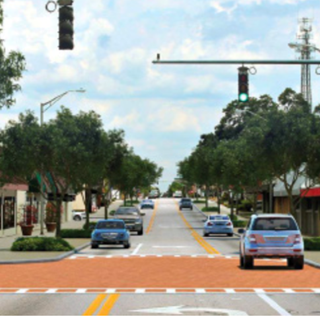 About the S Florida Road Diet (Interactive) | FDOT Traffic Study & Road Diet Test
---
LAKELAND, FL (March 25, 2019) | The Florida Department of Transportation (FDOT) will hold an open-house style public meeting on April 9th from 4 p.m. – 7 p.m. to go over the South Florida Avenue Master Plan that includes a road diet pilot project through the Dixieland area. The meeting will take place in Sikes Hall at the RP Funding Center (701 W Lime St, Lakeland, FL 33815).
This road-diet is a test project for a period of no less than one year to study traffic movements and the viability of a more permanent solution. The open-house style public meeting will allow citizens a chance to review plans and discuss the pilot project with traffic planners from FDOT and the City of Lakeland who will be on hand to help answer questions.  Citizens are invited to drop in at their leisure anytime between 4 p.m. – 7 p.m.
There are a number of safety concerns with the current configuration of Florida Avenue between Ariana Street and Pine Street. The narrow lane widths and sloped sidewalk configurations do not comply with acceptable State and Federal design standards.  Due to the limited amount of room between building face to building face, options to improve the corridor are extremely limited and street widening is not an option.  To widen the sidewalks and travel lanes, the road-diet pilot project reduces the number of from five (two through lanes in each direction with middle turn lane) to three (one through lane in each direction with middle turn lane).  FDOT needs to better understand the traffic impacts of the pilot project lane re-configuration and this is the reason for the pilot project.  
A team working for FDOT recently developed the South Florida Avenue (SR 37) Master Plan in coordination with the City and community stakeholders. This Master Plan indicated 174 crashes occurred within the corridor between 2011 and 2014 with 75% involving injuries—a very high level for a street within the core of a City.  The Polk Transportation Planning Organization also conducted separate countywide Bicycle and Pedestrian analyses in 2015 that identified this section of Florida Avenue as a TOP 10 crash corridor. During the 2016 Master Plan development sessions, participants told the FDOT team and City staff that Florida Avenue does not meet community transportation and economic development objectives.  In response, FDOT is pursuing this test/pilot project to measure safety and traffic data for at least one year.  FDOT analyst believe converting Florida Avenue from five to three lanes is estimated to divert 2,000-5,000 vehicles per day to other streets and increase driving times through the Dixieland corridor by 17 to 50 seconds. FDOT models also indicate that vehicular crashes will reduce by an estimated 30%.
Chuck Barmby, Transportation & Development Review Manager said, "The current economic development activity along the Florida Avenue corridor does not meet the objectives of the Downtown and Dixieland redevelopment plans. The growing economic activity that has occurred in the area has increased pedestrian traffic, creating additional safety concerns that the pilot project will hope to address." He added, "The test will provide FDOT and the public with real-world experience and data that will be used to make a final decision. FDOT is obligated to look at ways to safely and efficiently move people through the Florida Avenue corridor, not just cars."
The pilot project and associated data collection/analysis program will provide the community with the tools to make an informed decision on the future of Florida Avenue.  
Contact
Kevin Cook
Director of Communications
863.834.6264
kevin.cook@lakelandgov.net
---
About Lakeland
The City of Lakeland was incorporated January 1885 and has grown to become one of the largest inland communities in Florida.  With a current population over 100,000 Lakeland continues to grow. It has been designated a Standard Metropolitan Statistical Area by the US Census Bureau for over 30 years.  With tourist attractions and gulf beaches only an hour away, Lakeland continues to capitalize on its ideal central Florida location along the I-4 corridor.  The City owns and operates Lakeland Electric, the third largest publicly owned utility in Florida and it was one of the first to offer power in the Sunshine State over 110 years ago.
For additional information about the City of Lakeland, please explore lakelandgov.net.
Citizens are also invited to follow the City on social media. 
---