Lake Morton Shoreline Improvement Project
---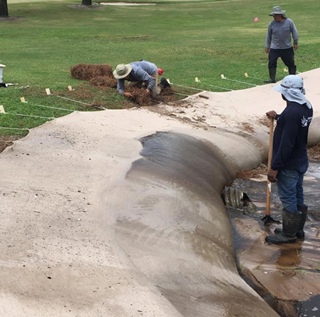 Shoreline Stabilization Using Dredgesox Technology & Native Aquatic Plants
LAKELAND, FL (May 8, 2019) | The City of Lakeland will begin a shoreline restoration and stabilization project to repair and stabilize approximately 300 linear feet of eroded shoreline along the north side of Lake Morton.  The repair will include the utilization of Dredgesox technology.  Dredgesox liners will be installed along the eroded shoreline; filled with clean fill material, and then covered with sod.  The project is scheduled to begin late May 2019 and will take approximately six weeks to complete.
A second phase of the project will include planting native aquatic plants along the impacted area.  Low-profile fencing will be installed around the planting zone and remain in place for approximately one year to allow for successful plant establishment.  Laurie Smith, Manager of Lakes & Stormwater said, "Shoreline restoration and sediment removal will contribute to a healthy eco-system and cleaner water. The aquatic plants act as a natural shoreline stabilizer by aiding in the prevention of future erosion and the plants improve water quality by taking in excess nutrients."
Lakes Program was added to the City of Lakeland's Public Works Department in 1987. Because of the important relationship between stormwater and lake conservation, the Stormwater and Lakes Management Programs were merged in 1999. The purpose of the program is to improve the quality of all City lakes and water resources. The establishment of the Lakes & Stormwater Division has contributed considerably to improving the health and beauty of our City's lakes and waterways. The Lakes & Stormwater staff invites residents to take advantage and enjoy the many lakes and water resources found in the area. For more information on the Lake Morton shoreline improvement project or to learn more about the Lakes & Stormwater Division, please call 863/834-3300.
Contact
Kevin Cook
Director of Communications
863.834.6264
kevin.cook@lakelandgov.net
---
About Lakeland
The City of Lakeland was incorporated January 1885 and has grown to become one of the largest inland communities in Florida.  With a current population over 100,000 Lakeland continues to grow. It has been designated a Standard Metropolitan Statistical Area by the US Census Bureau for over 30 years.  With tourist attractions and gulf beaches only an hour away, Lakeland continues to capitalize on its ideal central Florida location along the I-4 corridor.  The City owns and operates Lakeland Electric, the third largest publicly owned utility in Florida and it was one of the first to offer power in the Sunshine State over 110 years ago.
For additional information about the City of Lakeland, please explore lakelandgov.net.
Citizens are also invited to follow the City on social media. 
---