Lakeland Christmas Parade: No Chairs Until the Day of the Event
---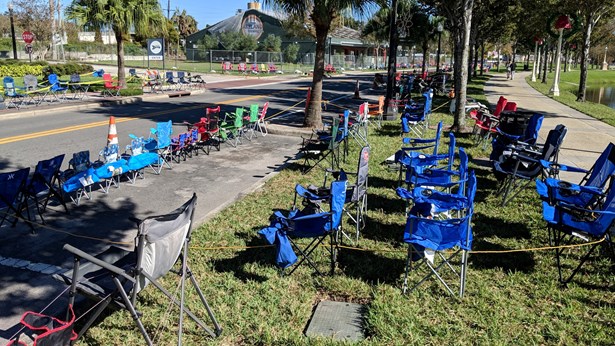 ---
LAKELAND, FL (November 15, 2019) | The Lakeland Christmas Parade is a time-honored tradition, enjoyed by the community for generations.  The parade takes place on Thursday, December 5th.  The parade starts with a firework display over Lake Mirror at 7 p.m.  As the first firework is launched, the parade officially begins.  Leaving the RP Funding Center, the parade travels down Lemon Street toward downtown.  The parade then turns at Main Street to Cedar Street and winds around Lake Mirror, going up Orange Street and ending at the RP Funding Center.   
This year's parade has over 120 participants, including floats, marching bands and decorated trailers.  The parade ends with everyone's favorite, Mr. and Mrs.  Claus.  The theme for this year is Joy of Giving with each float incorporating the theme into their design.   
The City asks that no chairs be placed on the parade route until the day of the parade.  Each year, many of those attending the parade start staking their claim earlier and earlier.  Fire Chief Doug Riley says, "We understand people want a good vantage point to watch the parade.  Unfortunately, we have chairs blocking sidewalks and crosswalks days before the parade."  Police Chief Reuben Garcia adds, "This causes a major hazard, especially for those in our community that use wheelchairs and walkers to get around."
This year, the City will remove/relocate chairs that are totally blocking sidewalks, in the way of crosswalks and hindering the use of disabled parking spaces.  We understand the excitement of this yearly event, but we also want to keep in mind the safety of all our citizens.  Riley and Garcia say, "Please, no chairs on the parade route before Thursday."  Any chairs, tape, blankets and other materials used to save viewing spaces will be removed if placed in public right-of-way before the day of the parade.
This busy time of year begins with the Lakeland Christmas Parade on December 5th, First Friday on December 6th, Snowfest on December 7th and the Holly Jog Jingle Bell Jog on December 14th. 
The City of Lakeland wishes everyone a Merry Christmas and a very joyous holiday season.
Contact
Kevin Cook
---
About Lakeland
The City of Lakeland was incorporated in January 1885 and has grown to become one of the largest inland communities in Florida.  With a current population over 100,000, Lakeland continues to grow. It has been designated a Standard Metropolitan Statistical Area by the US Census Bureau for over 30 years.  With tourist attractions and gulf beaches only an hour away, Lakeland continues to capitalize on its ideal central Florida location along the I-4 corridor.  The City owns and operates Lakeland Electric, the third-largest publicly owned utility in Florida and it was one of the first to offer power in the Sunshine State over 110 years ago.
For additional information about the City of Lakeland, please explore lakelandgov.net.
Citizens are also invited to follow the City on social media. 
---