LAKELAND POLICE DEPARTMENT EARNS THREE-YEAR REACCREDITATION
---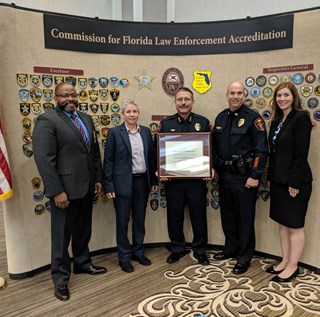 On Wednesday, October 2, 2019, the Commission for Florida Law Enforcement Accreditation (CFA) unanimously approved the Lakeland Police Department for three years of reaccreditation. Chief Ruben Garcia and the agency's accreditation team were on hand for the ceremony, held in St. Petersburg, where they were presented with the official certificate of reaccreditation. In the agency summary, CFA Commissioners noted that "each member is driven to provide excellent, professional and dedicated service to the city."
To earn this prestigious designation, a law enforcement agency must comply and provide proof of compliance with more than 115 professional standards, many of which are critical to life, health, and safety issues. This past August, an on-site assessment team composed of law enforcement practitioners from similar agencies, reviewed the Lakeland Police Department's policies and procedures, interviewed personnel, and carefully examined files kept by the agency in order to make its determination of compliance with each standard. The Lakeland Police Department also has two additional national professional accreditations from the Commission on Accreditation for Law Enforcement Agencies, Inc. (CALEA) and the Advanced Law Enforcement (CALEA) Communications Accreditation. Combined the accreditation certifications require the agency to meet more than 450 professional standards.
Chief Ruben Garcia said, "I could not be more proud of the men and women who work at the Lakeland Police Department. Our agency is dedicated to providing the highest level of service to our citizens every day, and this reaccreditation only affirms the commitment and high standards by which our team serves.
The Lakeland Police Department was established as a career-department in 1885. The agency currently employs 249 sworn officers and 119 civilian employees that provide service to more than 100,000 City of Lakeland residents. In 2018, the department responded to over 106,000 calls for service in its 84 square-mile response area. The Lakeland Police Department is committed to the philosophy of community policing, bringing law enforcement and citizens together to reduce crime within our neighborhoods and enhance the quality of life in our City.