Hurricane Dorian 3 PM Tuesday, September 3rd Update
---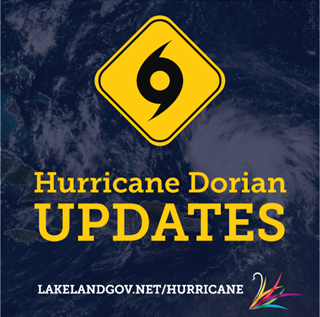 LAKELAND, FL (Tuesday, September 3, 2019) |  Hurricane Dorian is now moving on a northward path after spending 18 hours in an almost stationary position over Grand Bahama. The storm has been downgraded to a Category 2 Hurricane on the Saffir-Simpson Hurricane Wind Scale. Dorian is moving toward the northwest near 2-3 mph and a slightly faster motion toward the northwest or north-northwest is expected later today and tonight.  On this track, the hurricane will remain close to Florida as it travels up the east coast toward Georgia and the Carolinas. Data from reconnaissance aircraft indicate that the maximum sustained winds are near 110 mph with higher gusts. Dorian is expected to remain a powerful hurricane during the next couple of days.
City Closings 
The City of Lakeland will remain closed on Tuesday, September 3rd as the storm threat passes. All City of Lakeland personnel will report back to work on Wednesday, September 4th with regular business operations resuming.  
Solid Waste Pickup
Solid Waste services will resume on Wednesday with the following schedule:
Monday customers will be picked up on Wednesday
Tuesday customers will be picked up on Thursday
Thursday customers will be picked up on Friday
Friday customers will be picked up on Saturday
EOC
City staff continues to monitor the track of Hurricane Dorian. All operations are prepared and ready to begin any restoration necessary following the storms passing the east coast of Florida. The City EOC is scaling back and will close completely by 3 p.m. today.  Polk County EOC is also starting minimal staffing as the storm moves north with a full closure expected by tomorrow. However, all City of Lakeland mission critical personnel are prepared if Hurricane Dorian changes direction but for now, operations are scaling back.  Inland communities may still be impacted by rains and wind gusts from storm bands as Hurricane Dorian moves north.  Coastal communities are experiencing rough surf, flooding and storm surges with many Counties on Florida's east coast still under Hurricane advisories.  For the latest information on Hurricane Dorian go to: https://www.nhc.noaa.gov.
Contact
Kevin Cook
---
About Lakeland
The City of Lakeland was incorporated January 1885 and has grown to become one of the largest inland communities in Florida.  With a current population over 100,000 Lakeland continues to grow. It has been designated a Standard Metropolitan Statistical Area by the US Census Bureau for over 30 years.  With tourist attractions and gulf beaches only an hour away, Lakeland continues to capitalize on its ideal central Florida location along the I-4 corridor.  The City owns and operates Lakeland Electric, the third largest publicly owned utility in Florida and it was one of the first to offer power in the Sunshine State over 110 years ago.
For additional information about the City of Lakeland, please explore lakelandgov.net.
Citizens are also invited to follow the City on social media. 
---