During COVID-19 Pandemic, Lakeland Regional Health and the City of Lakeland Open Drive-Thru Testing Center
---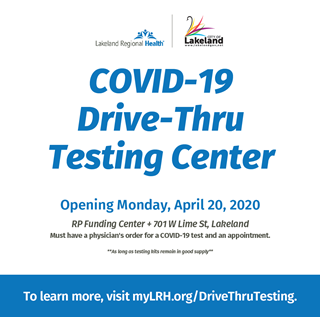 Drive-Thru Testing Begins Monday, April 20th
LAKELAND, FL (April 17, 2020) | As Lakeland Regional Health (LRH) continues to monitor and respond to the COVID-19 pandemic, the not-for-profit health system is pleased to collaborate with the City of Lakeland to open the City's first COVID-19 Drive-Thru Testing Center at the RP Funding Center, beginning Monday, April 20, 2020. 
"We are grateful for the excellent tolerance of Lakeland citizens during this restrictive crisis. The City recognizes the concern of citizens who suspect they may have been exposed to or have symptoms of the virus. Working alongside Lakeland Regional Health, this Drive-Thru Testing Center will give citizens safe and simple access to a COVID-19 test," said Lakeland Mayor Bill Mutz.
"As one of the city's leading healthcare providers, we take very seriously our commitment to ensure the safety and wellbeing of our patients, families, and residents," said Danielle Drummond, MS, FACHE, Lakeland Regional Health President and CEO Elect. "Because not all care providers in the area have access to the swab-testing kits needed for COVID-19 testing, we felt that opening a Drive-Thru Testing Center would provide our community with a much-needed COVID-19 testing option that is both safe and convenient."
Appointments
To ensure the safety of patients and team members, patients will need an appointment to be tested at the Drive-Thru COVID-19 Testing Center. To receive an appointment, patients can have their providers simply fax (863.687.1106) or email CentralScheduling@myLRH.org an order for COVID-19 testing to Lakeland Regional Health. Those who do not have a doctor's order are encouraged to visit Lakeland Regional Health's new, dedicated COVID-19 Telehealth Service, debuting on Sunday, April 19, 2020, to be evaluated by a care provider and receive an order for testing, if warranted. The Drive-Thru Testing Center will be open weekdays for as long as Lakeland Regional Health's testing kits remain in good supply.
Patients will drive into the RP Funding Center parking lot at 701 W Lime St and follow the signs while driving for Check-In, Registration, and Swabbing stops. All team members will be in full Personal Protective Equipment, and patients will be asked to wear a mask. The actual process takes approximately 15 minutes.
Samples will then be sent to a commercial lab for testing, and patients will be notified directly of their results.
---
More Info: LRH Drive-Thru Testing Center
---
Contact
Kevin Cook
---
About Lakeland
The City of Lakeland was incorporated in January 1885 and has grown to become one of the largest inland communities in Florida.  With a current population of over 100,000, Lakeland continues to grow. It has been designated a Standard Metropolitan Statistical Area by the US Census Bureau for over 30 years.  With tourist attractions and gulf beaches only an hour away, Lakeland continues to capitalize on its ideal central Florida location along the I-4 corridor.  The City owns and operates Lakeland Electric, the third-largest publicly owned utility in Florida and it was one of the first to offer power in the Sunshine State over 110 years ago.
For additional information about the City of Lakeland, please explore lakelandgov.net.
Citizens are also invited to follow the City on social media.
---
The City of Lakeland generously provided the site, equipment, signs and law enforcement to ensure that the Lakeland community has a safe and convenient way to be tested at this time.
Press Release by Lakeland Regional Health.