Lake Bonnet Drainage Basin Flood Hazard/Debris Removal Grant Application
---
City Seeks Feedback on Grant Application
---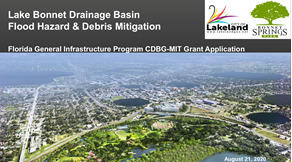 LAKELAND, FL (August 21, 2020) | The City of Lakeland in partnership with Bonnet Springs Park (a non-profit organization) will be submitting an application to the Florida Department of Economic Opportunity for a Florida General Infrastructure Program Mitigation Grant (CDBG-MIT) on September 14, 2020.  Grants will be awarded to successful applicants for risk mitigation projects including but not limited to flooding, severe storms, and tropical cyclones.  The proposed multi-component project is focused on adding flood storage capacity to the Lake Bonnet Drainage basin through improvements to stormwater infrastructure and the natural environment.  
The City of Lakeland and Bonnet Springs Park have envisioned this innovative, cooperative project as an opportunity to improve stormwater storage capacity, quantity, and quality; mitigate flooding hazards within the drainage basin; and restore Lake Bonnet surface waters and ecosystems while supporting the overall revitalization of the neighborhoods within the basin.  
---
Lake Bonnet Drainage Basin Presentation
---
Questions and feedback are welcomed on this application. They can be submitted to Laurie.Smith@LakelandGov.net.
Contact
---
About Lakeland
The City of Lakeland was incorporated in January 1885 and has grown to become one of the largest inland communities in Florida.  With a current population of over 100,000, Lakeland continues to grow. It has been designated a Standard Metropolitan Statistical Area by the US Census Bureau for over 30 years.  With tourist attractions and gulf beaches only an hour away, Lakeland continues to capitalize on its ideal central Florida location along the I-4 corridor.  The City owns and operates Lakeland Electric, the third-largest publicly owned utility in Florida and it was one of the first to offer power in the Sunshine State over 110 years ago.
For additional information about the City of Lakeland, please explore LakelandGov.net.
Citizens are also invited to follow the City on social media. 
---