Over 5,000 Lakelanders Commit to Plastic Bag-Free Recycling Carts
---
Every Blue Cart Makes a Difference Campaign increases the quality of recycling in Lakeland
---
---
 LAKELAND, FL (August 21, 2020) |  More than 5,100 Lakelanders rose to the challenge of keeping plastic bags out of their blue recycling carts. As a part of Lakeland's Bag-Free Recycling initiative, homes serviced by the City of Lakeland's Solid Waste and Recycling Division received a mailing describing the damage caused by bagged recyclables and plastic film in recycling containers. Residents were challenged to place a sticker on their recycling cart to show their commitment to keeping bagged recyclables and plastic wrapping out of their cart.
 "We were impressed with the response from Lakeland residents," said Ginn. "Their commitment was immediately evident in the improved quality of recycling found in the blue recycling carts."  
According to a recent recycling audit at the material recovery facility, there was a decrease in recycling "contamination", material not accepted in recycling, by more than six percent overall as compared to a 2018 audit. Several individual recycling routes boasted a 20-40% reduction in contamination with a direct correlation to those addresses with no bagged recycling stickers.
"Visually, there was a noticeable decrease in the number of bagged recyclables during the 2020 audit," said Ginn. "We could attribute that to our residents understanding the message of Bag-free Recycling."
The Every Blue Cart Makes a Difference campaign was launched on America Recycles Day 2019, to encourage residents to recycle paper, flattened cardboard, bottles or containers made of plastic, metal, and glass loose in their blue recycling cart. The campaign also focused on Lakeland's blue recycling carts to decrease confusion among homeowners serviced by Polk County.
The campaign introduced a new consistent look and feel for the recycling division with a new recycling logo, magnets, postcards, updated webpage, videos, local media outreach, event giveaways, and social media to help improve recycling habits for residents. Nearly 300 residents requested a free reusable recycling collection totes to transport recycling from their house to their cart for bag-free recycling.
Lakeland is asking curbside recycling customers again for their feedback on this campaign through a quick survey. Applicable respondents will receive a reusable recycling bag. For more information log on to LakelandRecycles.com.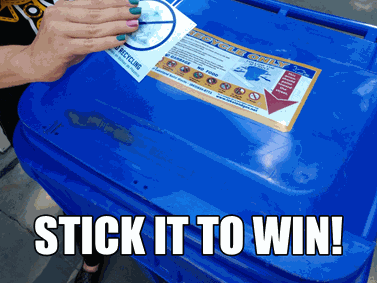 Contact
Marissa Segundo
Communications Consultant

Elizabeth Repass Hollida
Digital Content Specialist
---
About Lakeland
The City of Lakeland was incorporated in January 1885 and has grown to become one of the largest inland communities in Florida.  With a current population of over 100,000, Lakeland continues to grow. It has been designated a Standard Metropolitan Statistical Area by the US Census Bureau for over 30 years.  With tourist attractions and gulf beaches only an hour away, Lakeland continues to capitalize on its ideal central Florida location along the I-4 corridor.  The City owns and operates Lakeland Electric, the third-largest publicly owned utility in Florida and it was one of the first to offer power in the Sunshine State over 110 years ago.
For additional information about the City of Lakeland, please explore LakelandGov.net.
Citizens are also invited to follow the City on social media. 
---