Portion of North Parkway Frontage Road Closed for Emergency Repairs
---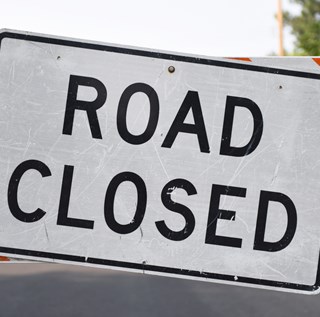 LAKELAND, FL (August 10, 2020) | North Parkway Frontage Road is closed between Underpass Road and Harden Boulevard for emergency repairs to the roadway just west of Caribbean Drive (entrance to The Villas). 
North Parkway Frontage Road is one-way westbound in this area, so motorists will need to take an alternate route to reach Harden Boulevard. North Parkway Frontage Road has experienced a soil failure requiring both lanes to be closed immediately west of Caribbean Drive for emergency repairs.  
Maintenance of Traffic (MOT) has been set up to help detour traffic headed westbound on this road. The best available information at this time is that the road repair will be paved and open sometime on Thursday, August 13, 2020.  This area is known to have poor soils from previous mining, so construction delays may be experienced. 
This is being repaired by a contractor for City of Lakeland Water Utilities, related to a recent underground project. Residents and visitors to the Villas on Caribbean Drive will have access to their neighborhood from North Parkway Frontage Road and will be flagged through the closure if necessary as they exit Caribbean Drive onto North Parkway Frontage Road headed west. 
Visitors to Watson Clinic South will also be guided through the closure by law enforcement. All others should use alternate routes to reach their destination and expect delays. Law enforcement is on hand to assist with traffic.
Contact
Kevin Cook
---
About Lakeland
The City of Lakeland was incorporated in January 1885 and has grown to become one of the largest inland communities in Florida.  With a current population of over 100,000, Lakeland continues to grow. It has been designated a Standard Metropolitan Statistical Area by the US Census Bureau for over 30 years.  With tourist attractions and gulf beaches only an hour away, Lakeland continues to capitalize on its ideal central Florida location along the I-4 corridor.  The City owns and operates Lakeland Electric, the third-largest publicly owned utility in Florida and it was one of the first to offer power in the Sunshine State over 110 years ago.
For additional information about the City of Lakeland, please explore LakelandGov.net.
Citizens are also invited to follow the City on social media. 
---