Roundabout Planned on Drane Field Road & Don Emerson Drive Intersection
---
LAKELAND, FL (August 13, 2020) | In coordination with the Florida Department of Transportation (FDOT), the City of Lakeland is establishing a modern roundabout at the intersection of SR 572 (Drane Field Road) and Don Emerson Drive.  This road improvement will facilitate the anticipated increase in intersection operations and improve traffic safety.  The project is currently in the design phase with construction slated for late Spring 2021.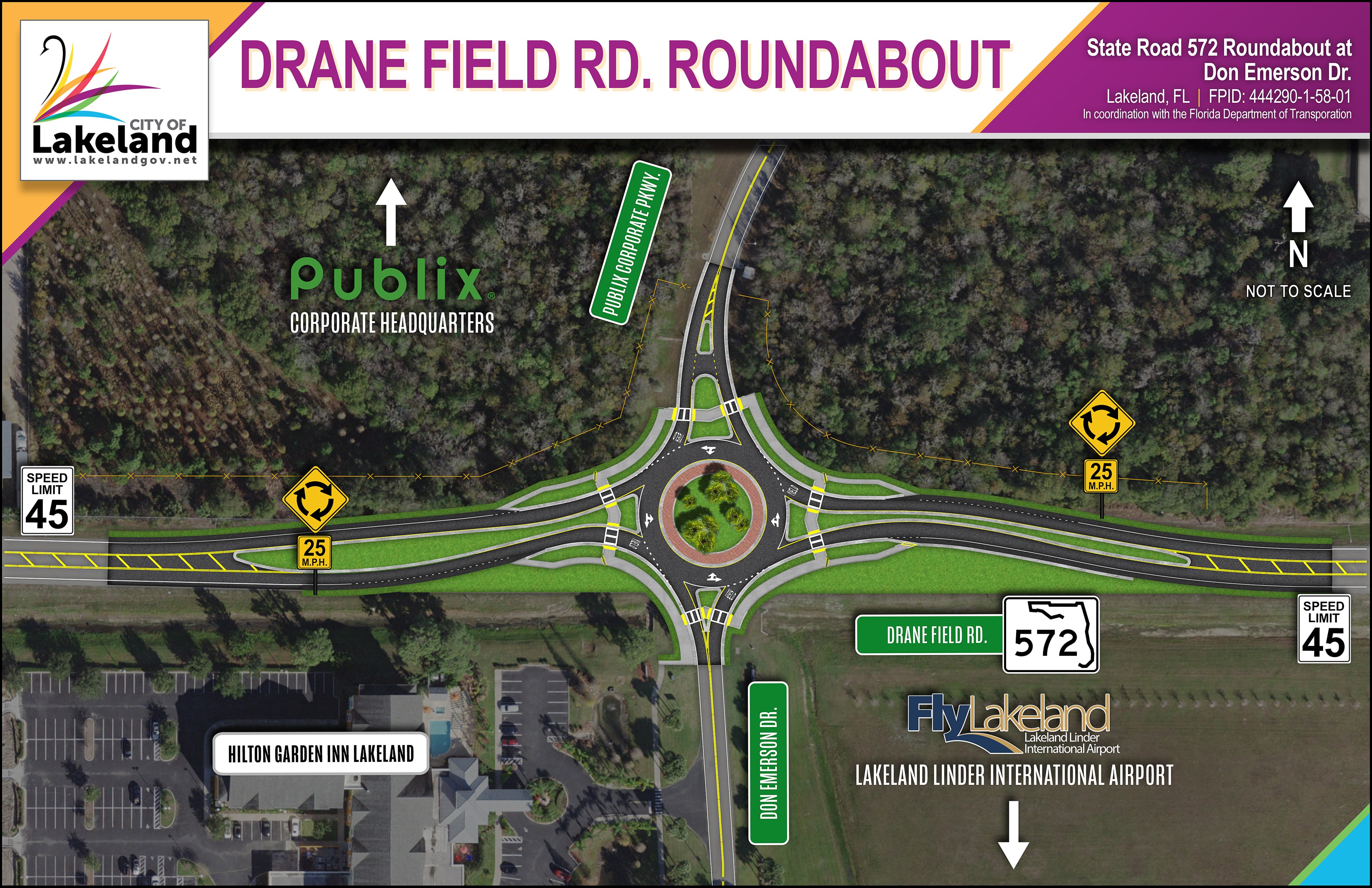 A modern roundabout is a circular intersection where drivers travel counterclockwise around a center island. There are no traffic signals or stop signs in a modern roundabout. Drivers yield at entry to traffic in the roundabout, then enter the intersection and exit at their desired street.  The City of Lakeland has a similar roundabout located at Lake Hollingsworth Drive and Lake Hollingsworth Road.
Ryan Lazenby, Civil Engineering Manager for the City of Lakeland is working with FDOT on the project. He said, "Our design should be completed by the end of the calendar year 2020.  We are anticipating construction to start by the end of April 2021."
The current construction estimate is $1,805,327.74 which will be funded by FDOT.  The City of Lakeland is funding the design through a professional services agreement with Patel, Greene & Associates, LLC for a not to exceed the amount of $538,425.82.  Construction is currently estimated at 235 days not inclusive of weather delays or holidays. The single-lane roundabout project is designed to improve traffic flow at the intersection, improve drainage, and improve safety.  The project will feature increased highway lighting and landscaping. 
Lazenby said, "Many people ask why a roundabout and we know that the design is not right for every intersection but it really will work well in this situation. This is a growing area that will continue to see an increase in traffic as it develops. A modern roundabout in this particular situation will improve operations, reduce intersection delay, and reduce the potential crash severity be limiting conflict points."
Contact
Kevin Cook
---
About Lakeland
The City of Lakeland was incorporated in January 1885 and has grown to become one of the largest inland communities in Florida.  With a current population of over 100,000, Lakeland continues to grow. It has been designated a Standard Metropolitan Statistical Area by the US Census Bureau for over 30 years.  With tourist attractions and gulf beaches only an hour away, Lakeland continues to capitalize on its ideal central Florida location along the I-4 corridor.  The City owns and operates Lakeland Electric, the third-largest publicly owned utility in Florida and it was one of the first to offer power in the Sunshine State over 110 years ago.
For additional information about the City of Lakeland, please explore LakelandGov.net.
Citizens are also invited to follow the City on social media. 
---