Solícitud de Fondos para la Mitigación del Peligro de Inundación y Escombros en la Cuenca del Lago Bonnet
---
La Ciudad Aprecia sus Comentarios Relacionados a ésta Solicitud de Fondos
Favor de someter sus comentarios antes de las 5 p.m. del día 8 de enero del 2021.
---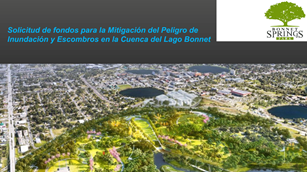 LAKELAND, FL (December 31, 2020) | La ciudad de Lakeland en asociación con el parque Bonnet Springs (una organización sin ganancia) estarán sometiendo un formulario de aplicación al Departamento de Florida de Oportunidades Económicos para el Programa de Mitigación General de la Infraestructura de Florida (CDBG-MIT) en el día 14 de septiembre del 2020. Se estarán distribuyendo los fondos a solicitantes exitosos para proyectos que implementen sistemas de mitigación para daños causados pro actos similares a una inundación, tormentas severas y ciclones tropicales.
El enfoque principal del proyecto propuesto multifásico es el de añadir un sistema alterno para alamacenar aguas de escorrentía que causan inundaciones en la Cuenca del Lago Bonnet mediante mejoras a la infraestructura y ciertas areas natruales identificadas dentro de dicha Cuenca.
En éste proyecto de coloboración entre la ciudad de Lakeland y el parque de Bonnet Springs, se ha provisto la oportunidad de ejendrar un proyecto con elementos innovadores para la mejora de la capacidad y calidad de un sistema de almacenaje para las aguas pluviales; mitigación de elementos peligrosos causados por inundación; y la restauración de las aguas superficiales y los ecosistemas resultando en mejoras secundarias a través de todos los vecindarios dentro de la Cuenca de Bonnet Springs.
Favor de someter sus preguntas y comentarios relacionados a éste solicitud de fondos por correo electrónico a: Laurie.Smith@LakelandGov.net.
---
Presentación de la Cuenca del Lago Bonnet
---
Contact
---
About Lakeland
The City of Lakeland was incorporated in January 1885 and has grown to become one of the largest inland communities in Florida.  With a current population of over 100,000, Lakeland continues to grow. It has been designated a Standard Metropolitan Statistical Area by the US Census Bureau for over 30 years.  With tourist attractions and gulf beaches only an hour away, Lakeland continues to capitalize on its ideal central Florida location along the I-4 corridor.  The City owns and operates Lakeland Electric, the third-largest publicly owned utility in Florida and it was one of the first to offer power in the Sunshine State over 110 years ago.
For additional information about the City of Lakeland, please explore LakelandGov.net.
Citizens are also invited to follow the City on social media. 
---