Improvement Project Will Impact the Intersection at Florida Avenue & Edgewood Drive
---
Who: FDOT
What: Roadway Improvements
When: March 9, 2020 to late May 2020
Where: S Florida Avenue & Edgewood Drive
Why: Enhanced Pedestrian Safety
---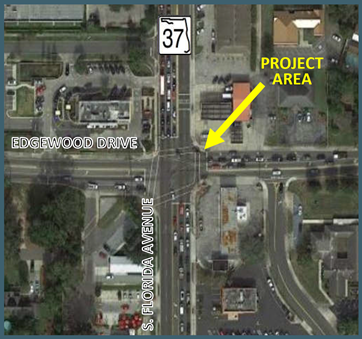 LAKELAND, FL (February 26, 2020) | The Florida Department of Transportation (FDOT) will be constructing improvements at the Florida Avenue and Edgewood Drive intersection starting Monday, March 9th.  FDOT is estimating that this construction project will be completed by late May 2020.  The project is being done to improve pedestrian safety by reducing crossing distances and reducing the speed of turning vehicles. 
Improvements to the South Florida Avenue and Edgewood Drive intersection include the installation of new traffic signals, new traffic signal mast arms, new medians, pedestrian accommodations and modifications to the curb/sidewalk. The project will contain a number of pedestrian related improvements that are being done to enhance safety including realigning crosswalks and installing new pedestrian signals.
Motorists are advised to use caution through the construction zone and there will be periodic lane closures during the project.  FDOT has stated there will be NO lane closures between 6 a.m. – 9 p.m. Due to the amount of traffic on South Florida Avenue and Edgewood Drive, construction activities requiring lane closures will be limited to overnight hours. This construction philosophy least impacts motorists but it will prolong the construction project. FDOT has estimated construction cost at $625,000 and the project contractor is Ajax Paving Industries of Florida.
---
Contacts
Kevin Cook
Director of Communications
City of Lakeland
863.834.6264
kevin.cook@lakelandgov.net
Brian Bolas
Community Outreach Manager
Florida Department of Transportation
813.262.8549
brian.bollas@dot.state.fl.us
---
About Lakeland
The City of Lakeland was incorporated in January 1885 and has grown to become one of the largest inland communities in Florida.  With a current population over 100,000, Lakeland continues to grow. It has been designated a Standard Metropolitan Statistical Area by the US Census Bureau for over 30 years.  With tourist attractions and gulf beaches only an hour away, Lakeland continues to capitalize on its ideal central Florida location along the I-4 corridor.  The City owns and operates Lakeland Electric, the third-largest publicly owned utility in Florida and it was one of the first to offer power in the Sunshine State over 110 years ago.
For additional information about the City of Lakeland, please explore lakelandgov.net.
Citizens are also invited to follow the City on social media. 
---