New High Intensity Activated CrossWalK Signals (HAWKS) active next week on Memorial Boulevard
---
From the Florida Department of Transportation (FDOT)
---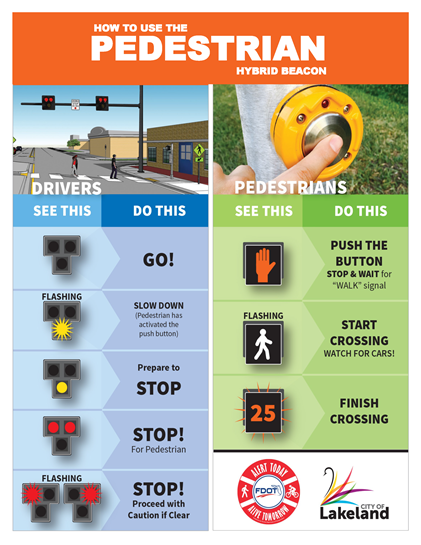 BARTOW, FL (February 18, 2020) | The Florida Department of Transportation plans to activate the newly installed High-Intensity Activated CrossWalK Signals (HAWKS) Monday, February 24. The signals are designed to make crossing Memorial Boulevard safer and easier for pedestrians in one of the highest crash areas in Polk County.
The new HAWK signals are located near Kettles Avenue, Vermont Avenue, Stella Avenue and Morgan Avenue in the City of Lakeland. To help build awareness of the new signals, the HAWKS will be in flash mode Wednesday, February 19 through Sunday, February 23 before they start working on Monday, February 24.
HAWK signals are activated when a pedestrian pushes the button. Once the button is pushed, the overhead signal begins flashing yellow before changing to a solid yellow, warning motorists to slow down and prepare to stop. The signal will then change to solid red. Motorists must stop for pedestrians to safely cross. Even when the signals indicate it is safe to cross, pedestrians should always make sure traffic has stopped before entering the roadway. When the signal begins flashing red, drivers may proceed with caution if the crosswalk is clear. The signal will then go dark and remain dark until a pedestrian pushes the button to begin the process again.
The City of Lakeland, the Florida Highway Patrol and the Lakeland Police Department will be on hand at each HAWK location to help explain the process to pedestrians during the first days of operation.
The HAWKS were installed as part of an FDOT safety improvement project on Memorial Boulevard that includes concrete pavement repairs, intersection and median modifications as well as upgrades to streetlights and sidewalks.
For more information on using the HAWK signals, see the following videos: 
Contact
Brian R. Rick
---
About Lakeland
The City of Lakeland was incorporated in January 1885 and has grown to become one of the largest inland communities in Florida.  With a current population over 100,000, Lakeland continues to grow. It has been designated a Standard Metropolitan Statistical Area by the US Census Bureau for over 30 years.  With tourist attractions and gulf beaches only an hour away, Lakeland continues to capitalize on its ideal central Florida location along the I-4 corridor.  The City owns and operates Lakeland Electric, the third-largest publicly owned utility in Florida and it was one of the first to offer power in the Sunshine State over 110 years ago.
For additional information about the City of Lakeland, please explore lakelandgov.net.
Citizens are also invited to follow the City on social media. 
---