West Lake Parker Multi-Use Path Construction On Hold Until Spring Training Concludes
---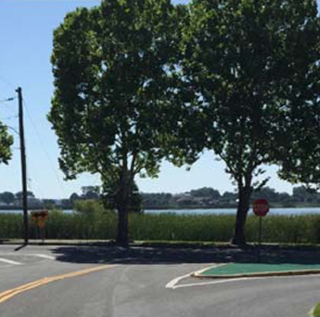 LAKELAND, FL (February 19, 2020) | Construction on the West Lake Parker multi-use path will be put on hold while the Detroit Tigers Spring Training is taking place. Construction will be suspended at close of business on Thursday, February 20th and work will resume on Monday, March 30th. 
Greg James, Assistant Director of Public Works said, "The work was originally slated to be completed by the end of the month but we still have equipment in the area that will impact those trying to attend a Spring Training game at Publix Field at Joker Marchant Stadium so we made a conscious decision to suspend work.  West Lake Parker is heavily used when the Detroit Tigers are in town so we will halt construction until Spring Training concludes."
The West Lake Parker Multi-Use Path is unique because the project features a walking history lesson. Artwork along the path provides a themed history of the City of Lakeland interpreted through the talents of students who attend area Polk County Schools.  Once completed, the one mile stretch of multi-use path containing the history inspired artwork will have approximately 150 art tiles measuring 12 inches X 12 inches.  Each tile will have its own vibrant artwork and there will be several much larger panels that will showcase student artwork that differentiates the historical significance of each decade.  Alis Drumgo, CRA Manager said, "The goal is to create a vibrant space along the lakefront path that helps tell the history of our community through the eyes of our talented young people.  This is a great collaborative project done in conjunction with the Polk County School Board and I can't wait to see the completed project." 
The following Polk County Schools are contributing their talent to the artwork on the multi-use path:
Highland City Elementary
Highlands Grove Elementary
Jesse Keen Elementary
Spessard Holland Elementary
Lakeland Senior High School
George Jenkins High School
Rochelle School of the Arts
Lake Gibson Senior
Lake Gibson Middle
Lake Region High School
The 10-foot wide multi-use path construction is replacing a five-foot wide sidewalk.  The new path will stretch from Bella Vista Street to Bon Air Street connecting to an existing multi-use path on the west shore of Lake Parker that ends at Bella Vista Street.  Once this portion is complete, there will be a 10-foot wide multi-use path along the west shore of Lake Parker that stretches from Memorial Boulevard to Publix Field at Joker Marchant Stadium and Lake Parker Park. The current project budget is set at $820,000 funded through the Lakeland CRA.  The 10-foot wide multi-use path is part of the master plan that was introduced as the West Lake Parker Drive / Lakeshore Drive Bicycle Facility and Lakefront Enhancement Report introduced in 2016. The report outlined four alternatives for a bicycle facility, as well as identifying improvement opportunities of other amenities to complement the vision along this segment of the Lake‐to‐Lake Bicycle and Greenway Pedestrian Connector.  
Contact
Kevin Cook
---
About Lakeland
The City of Lakeland was incorporated in January 1885 and has grown to become one of the largest inland communities in Florida.  With a current population over 100,000, Lakeland continues to grow. It has been designated a Standard Metropolitan Statistical Area by the US Census Bureau for over 30 years.  With tourist attractions and gulf beaches only an hour away, Lakeland continues to capitalize on its ideal central Florida location along the I-4 corridor.  The City owns and operates Lakeland Electric, the third-largest publicly owned utility in Florida and it was one of the first to offer power in the Sunshine State over 110 years ago.
For additional information about the City of Lakeland, please explore lakelandgov.net.
Citizens are also invited to follow the City on social media. 
---