Agency Promotions Announced Including Selections for Assistant Chief and Captain
---
Ceremony to be held on Friday, January 31, 2020 at the RP Funding Center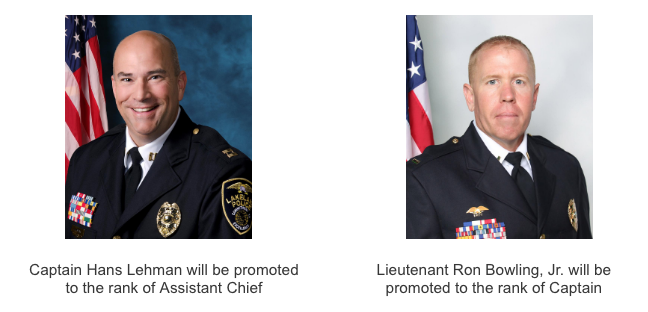 LAKELAND, FL
(January 24, 2020)
- 
The Lakeland Police Department is proud to announce that Captain Hans Lehman and Lieutenant Ronald Bowling Jr., have been selected as the department's newest Assistant Chief and Captain. Upon assuming the role of Assistant Chief, Hans Lehman will command the Special Services Bureau, which includes the Special Services Division and the Special Operations Division. In the new role of Captain, Ron Bowling Jr. will lead the Patrol Division, which is a part of the Neighborhood Services Bureau. In total, LPD has three Assistant Chiefs and five Captain positions. Captain Lehman and Lieutenant Bowling will begin serving in their new positions on February 2, 2020.
In regards to the promotions, Chief Ruben Garcia said, "Captain Lehman is a well-established member of the command staff, respected for both his commitment to his profession and his service to our citizens. Lieutenant Bowling is a proven leader with honed knowledge in the area of critical incidents as well as problem-solving policing. The officers under their command and the communities they serve, will all benefit from these appointments as both move our department forward."
Promotion Ceremony
On Friday, January 31, 2020, the Lakeland Police Department will host a promotion ceremony. During the event, Chief Garcia will officially promote Captain Lehman to the rank of Assistant Chief and Lieutenant Bowling to the rank of Captain. Also, Sergeant Tye Thompson will be promoted to the rank of Lieutenant and Detective Joshua Schecker to the rank of Sergeant. The ceremony will take place at the RP Funding Center, 701 West Lime Street, in the open lobby area outside of the Youkey Theatre, beginning at 3:00 p.m. The public is invited to attend.
More About Captain Hans Lehman 
Captain Hans Lehman was born and raised in Lakeland, Florida. He started as a Lakeland Police Explorer in 1984 through 1989 and is a graduate of Kathleen Senior High School. While in college, he began his career in public safety in 1991 as a Volunteer Firefighter/EMT with Volusia County Fire Service and later with Polk County EMS. Upon graduating from Stetson University (1994) with a Bachelor's degree in Sociology, he moved back to Lakeland and began his law enforcement career in 1995 as a Deputy Sheriff with the Polk County Sheriff's Office. 
He was hired in 1996 as an officer with the Lakeland Police Department (LPD). During his 23+ years at LPD, he has worked in or supervised almost every component of the agency. Some of those include: Hiring and Recruiting, Training, Planning and Research, state and national Accreditation, Fleet & Facilities, Records, 911 Communications, Internal Affairs, Criminal Investigations, Traffic Homicide, DUI Enforcement, Honor Guard, Aviation Unit, K-9 Unit, School Resource Unit, Crime Prevention, Uniform Patrol, Field Training, Special Events Management and Community Policing.
Captain Lehman holds a Master's Degree from Troy University (2008) in Criminal Justice Administration and a second Master's degree from the University of Florida (2018) in Emergency Services/Disaster Management. He is also a graduate of the Southern Police Institute's Executive Leadership School at the University of Louisville, the Senior Management Institute for Police in Boston, and the Florida Police Chiefs Association's Future Chiefs School. He is a Certified Public Manager through Florida State University and a nationally certified Drug Recognition Expert/Instructor for almost 20 years.
His professional affiliations include the International Association of Chiefs of Police, Florida Police Chiefs Association, Polk County Police Chiefs Association, Police Executive Research Forum, FBI Law Enforcement Executive Association, The Lakeland Rotary Club, and is currently a member of Leadership Lakeland Class 37. He is also an Adjunct Instructor for Polk State College Criminal Justice Academy and the Institute of Police Technology and Management at the University of North Florida.
More About Lieutenant Ronald Bowling, Jr.
Lieutenant Ronald Bowling, Jr. has been a resident of Lakeland for most of his life. After graduating from Mulberry Senior High School in 1993, he attended Florida State University, where he graduated with a Bachelor of Science Degree in Criminology in 1997. While attending Florida State, he joined the United States Marine Corps Reserves and was honorably discharged after ten years of service as an M1A1 tank commander. After a five-year break in military service, he joined the US Army Reserves and is currently a Special Agent in the Criminal Investigation Division. He has deployed to Djibouti Africa, Afghanistan, and most recently served on the Secretary of Defense's protection team.
Lieutenant Bowling was hired by the Lakeland Police Department in 1997 and assigned to the Uniform Patrol Division and Street Crimes Unit. He was promoted to Sergeant in 2007 and was a supervisor in the Uniform Patrol Division, the Neighborhood Liaison Unit, and Street Crimes Unit. In 2014, he was promoted to Lieutenant, where he was the Officer in Charge of Uniform Patrol Squads Bravo and Delta. Later he supervised the Special Investigations Section and, most recently, the Criminal Investigations Section. Lieutenant Bowling served on the LPD honor guard and was a 15-year member on the SWAT team. He has competed with the LPD SWAT Round-Up team for 12 years and was able to help his team win the International SWAT Round-Up Competition four times. His awards at LPD include 10 Distinguished Performance Awards, The Meritorious Service Award, and the Medal of Valor.
Lieutenant Bowling has a strong family heritage at the Lakeland Police Department. His father, Ronald Bowling, Sr. is a retired LPD police officer and Lakeland's first K-9 handler. His brother Officer Cory Bowling currently serves as a K-9 handler at LPD.